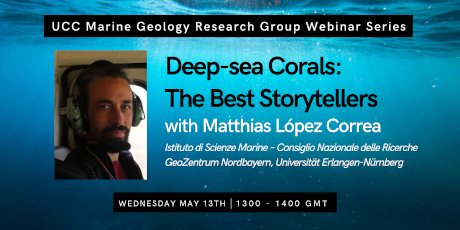 Join UCC's Marine Geology Group for a weekly talk on topics relating to marine geology. Including Ice Ages, Deep Sea Corals and Fossil Plankton. Featuring both national and international speakers to perk up your midweek lunchtime and scientific background is non-essential. So grab yourselves a coffee and catch you all there!
First webinar will be from Dr. Matthias Lopez Correa, of the Geozentrum Nordbayern on Cold-water corals. Matthias' research encompasses Mediterranean and Atlantic cold-water corals for proxy development and fossil material for paleoceanographic reconstructions.
Register now via Eventbrite (https://www.eventbrite.ie/e/ucc-marine-geology-research-group-wednesday-webinars-tickets-104625658160) and you will receive a link to the Microsoft Teams page. This grants you access to 4 webinars and discussion forums until the 3rd of June.
Links will be distributed 24 hours prior to the event with details on how to join. A reminder will be sent to you approx. 1 hour before the event takes place.