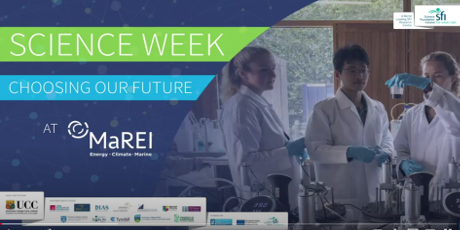 2020 marked the 25th year of the SFI Science Week which took place from November 8th to 15th against a societal backdrop never previously experienced in our lifetime.
As a result the core theme for Science Week 2020 was 'Choosing our Future' focusing on how science can improve our lives in the future, and in the present, exploring how science can help us to make positive choices that will impact the environment, our health, and our quality of life.
The MaREI SFI Centre for Energy, Climate and the Marine/ERI rolled out a dynamic online campaign of awareness and engagement which was hugely successful with over 7,700 people watching the videos that were created and attending their online events
Additionally, over 687,440 people were reached through their social media posts and media articles and over 2,400 people visited the MaREI website during the week
Watch their short highlights video to see what MaREI got up to during the week.