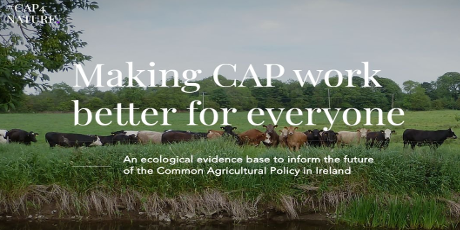 In addition to ensuring food security and stability, CAP now includes objectives for better protection of natural resources, conservation of biodiversity and addressing climate change. Agriculture will be increasingly expected to deliver farming systems that enhance farming livelihoods while also delivering environmental targets.
In a workshop convened by the National Biodiversity Forum, a group of independent scientists including some of Ireland's leading academics has proposed six evidence-based Ecological Principles that can support the design and implementation of effective nature-based farming solutions. The general principles can support stakeholders and policymakers as part of the formulation of Ireland's new Common Agricultural Policy Strategic Plan. The findings are published on the following website www.cap4nature.com
Given the climate and biodiversity emergency, and the economic challenges facing many of Ireland's farmers, the development of a new national Strategic Plan to guide Ireland's implementation of the Common Agricultural Policy presents a significant opportunity to achieve policy objectives and societal demands for healthy ecosystems and thriving rural economies.
In Ireland, almost 80% of total expenditure (€1.1 billion) on biodiversity between 2010 and 2015 came from the Department of Agriculture, Food and the Marine. Despite this investment, a 2019 national assessment of the status of EU-protected habitats and species revealed that agricultural practices negatively impact over 70% of habitats. The assessment also revealed that 85% of 59 major habitat types are in unfavourable condition. Of this proportion, 39% are described as 'bad' and another 46% as 'inadequate', with 46% displaying ongoing declining trends.
The CAP4Nature principles (listed below) and examples show that the impact of farming on biodiversity can be reduced. At the same time, managing farmland for biodiversity can also increase water quality, carbon storage, soil health, pollinators and pest control. Agricultural payments that support nature could reward many or all of these benefits to agriculture and wider society.
Professor John Quinn, Head of UCC Ornithology and member of the CAP4Aature working group says: "Over the last 50 years the Common Agricultural Policy has had an enormous impact on our farming, on our wildlife and on the landscape. Dramatically improved agricultural output and rural development have benefitted farmers and Ireland enormously. But it has also come at an enormous cost to wildlife and the ecosystem services provided by nature. This is coming back to bite us because the environment upon which we rely is in serious decline. It is time to make sure that in the next round of CAP, funding works for people and for nature".
"A report by Birdwatch Ireland and RSPB Northern Ireland shows that 63% of our 202 regularly breeding species have a poor conservation status and many are threatened with extinction. Can you imagine our grandchildren never seeing a swallow? If you think that's not possible, ask your grandparents about Corncrakes, a species that used to be heard calling from hay meadows every spring after returning from Africa all over the country. Now their future in Ireland is hanging on a thread. The same is true of our breeding Curlew."
"These kinds of declines are found in most kinds of wildlife – flowers, plants in general, and insects - Explanations for why this arises are numerous (outlined here: http://bit.ly/32ECmy2) but the main ones are the increasing use of herbicides and pesticides and loss of habitat and nesting sites due to hedgerow cutting, reduction in field margins, switching from hay to silage and removal of scrub."
"All of this is caused by farming practices that have changed so rapidly that nature has just not had time to adapt, and never will do unless we give it a helping hand. Thankfully this can be done with positive benefits for farming and everyone."
"In Ireland most money that is spent on nature protection comes, somewhat surprisingly, from the Department of Agriculture, Food and the Marine. Unfortunately, this has had little or no positive impact on protecting nature, so something has to change. Our aim is to provide the government with some guiding principles to ensure that the next round of CAP works for nature and benefits farming in the process."
"Farming sustainably can deliver benefits for our national carbon budgets, for the quality of our air and our water, and for nature, which in turn can benefit farming. It is essential that farmers are helped financially to achieve these benefits. In addition, some farmers are finding that they can save money by farming more sustainably."
"I have a strong love of farming", emphasises Professor Quinn, "but I also passionately believe that we need to farm sustainably for everyone's benefit. Many, probably most, farmers agree but need financial assistance to help secure their livelihoods whilst protecting the environment and nature."
"Our intention is that this website will help the government ensure wildlife works for people and nature. It will also provide a key source of reference for farmers and other stakeholders in the Irish landscape".
The six Ecological Principles are backed by an extensive list of peer reviewed scientific papers, which are available to view on the website www.cap4nature.com
The Principles are further illustrated with tangible examples in Cropland, Grassland, Peatland and Forest ecosystems Intensive (e.g. Sitka Spruce Plantations) and extensive (e.g. Native Woodlands) land use options are compared using a 'traffic light' red-amber-green system to show how they impact on a range of ecosystem services, including soil health, carbon, pollinators, water quality and wildlife (see www.cap4nature.com).
The six CAP4Nature Principles are:
1. FARM FOR FOOD SECURITY
Biodiversity underpins the sustainable delivery of multiple ecosystem services that benefit society.
2. NATURE HAS LIMITS
Global trends indicate we are facing a mass extinction, and Ireland is similarly affected.
3. QUANTITY, QUALITY & CONNECTIVITY MATTER
Ecosystem type, condition and extent determine the services that are delivered in any one area.
4. ONE SIZE CAP DOESN'T FIT ALL
Targeted interventions are essential to ensure ecosystem service delivery across the Irish landscape.
5. STRENGTHEN THE LINKS
The food system depends on links between people, producers and nature. Strengthening these links enhances benefits from nature and the reputation of Irish agricultural produce.
6. NATURE NEEDS LONG TERM BUT FLEXIBLE PLANNING
Support for the natural processes that deliver beneficial ecosystem services requires long term planning.