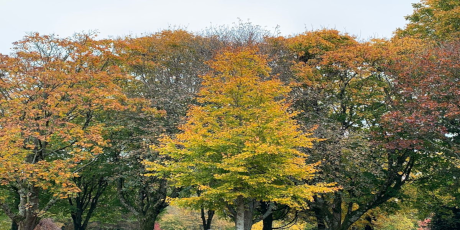 There is increasing evidence to show that green spaces provide mental-health benefits, greater wellbeing, and lower levels of depression, stress, and anxiety. However, we don't all have equal access to such spaces so researchers in UCC's ERI, School of Geography and School of Applied Psychology have been developing a major new Citizen Science project to support immersion in nature, even when access to traditional green spaces may be limited.
The NatureWatch project links nature and technology to support the wellbeing of older adults. The team, which is funded by Science Foundation Ireland's Discover Programme have been developing training materials and exercises for people who are interested in exploring nature, photography, technology, and wellbeing.
"Participants have been actively using technology to observe nature in their own areas- immersing themselves with the surrounding wildlife and telling us that they want to learn more about the species in their gardens, towns, and cities," explains Dr Paul Holloway of the ERI and School of Geography who is leading the project.
"This is especially important as we are in the midst of a biodiversity crisis, with some familiar Irish species, such as starlings and gulls on the conservation watch-list. People who have a deeper connection with and understanding of nature are more likely to live in an environmentally friendly way, benefitting both nature and themselves."
"The first NatureWatch Festival in July was a huge success. We had a diverse group of almost 50 people partaking in guided walks to increase their knowledge of wildflowers, summer migrant birds, as well as a wellness immersion tour. However, as the weather starts to change, the nights get longer, and we move into autumn, we begin to see a change in nature. The birds are less vocal, the leaves start to change colour, and we see a shift in the wildlife that has been prominent during the summer months. In our second instalment for Culture Night, we have teamed up with the KinShip Project undertake guided nature photography walks to explore the changing colours of nature, as well as a host of other activities".
The NatureWatch workshops planned for September will provide in-person training on how to use the technology, guided nature walks at Tramore Valley Park, and wellbeing exercises linking with nature. This workshop will be a part of The KinShip Project, a durational public artwork at Tramore Valley Park by Cork City Council in partnership with artists Lennon Taylor (Marilyn Lennon and Sean Taylor), supported by the Creative Climate Action Fund. It provides a programme of artistic residencies, the design and building of a sustainable Eco Lab and series of creative and knowledge exchanges. All these elements put the local community at the centre of the project.
Join the NatureWatch and Kinship team on Friday September 23rd between 3pm-5pm and Saturday 24th September 10am-12pm at Tramore Valley Park, where they will offer a range of activities, including a guided nature photography walk, technology demonstrations, phenology workshops, and a workshop on immersion in nature for wellbeing. There will be the option to sign up to receive free training equipment (i.e., cameras, recorders) through the participation in our seasonal online workshops.
"While the project has thus far been aimed towards older generations, there is no age limit on attendance," says Dr Holloway, "and we would encourage anyone interested in learning more about nature-technology-wellbeing to attend."
NatureWatch website: www.corknaturewatch.com
Kinship Website: https://www.corkcity.ie/en/kinship/