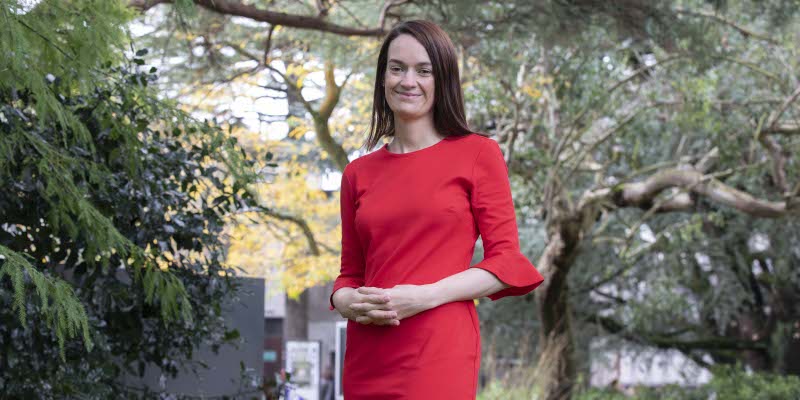 Led by Dr Marguerite Nyhan, new research has modelled and mapped energy demand and CO2 emissions across Cork City. This research directly informs Cork City's Climate Action Plan and their efforts as part of the "100 climate-neutral and smart cities" EU Mission. Other ERI authors include Connor McGookin, Anna O'Regan and Lily Purcell.
ome energy usage and road transport emissions are responsible for two-thirds of greenhouse gasses being generated in Cork City, according to important new UCC research commissioned by Cork City Council's Climate Action Unit. The findings confirm that upgrading our homes to be more energy efficient and moving around the city by public transport, by walking or cycling are among the best ways to tackle climate change. Corkonians are doing these things in growing numbers, but more people must join in.
The 'Modelling and Spatial Mapping of Cork City Baseline Emissions' study, completed by UCC's School of Engineering and Architecture, MaREI and ERI, gathered data on emissions from homes, vehicles and businesses. It calculated energy demand and modelled CO2 emissions across transport, residential, commercial/industry, public, agriculture & fishing and waste while mapping energy and CO2 emissions and comparing them against national emissions models.
The research, led by Dr Marguerite Nyhan, found that Cork City is releasing nearly 1 million tonnes of greenhouse gases into the air every year. Our 78,856 homes* alone contribute 34% of total emissions. Road transport, especially cars, account for another 29%. Our most congested roads, including the South Ring, N8 and Anglesea Street, among others, are emissions blackspots. The remaining balance of the City's greenhouse gas emissions are from commercial and industrial buildings, which contribute 22%, public services contribute 7%, agriculture and fisheries 6% and waste 2%.
Dr Nyhan said:
"The decarbonisation of Cork City is a complex problem. It's really important that we have extremely high-quality data and models underpinning our urban Climate Action Plans. At UCC, we used the best available science to model and map Cork City's baseline emissions for multiple sectors. Our findings show that households, transport and commercial services and industry, are responsible for most of our urban CO2 emissions.
"We know that transport emissions are substantive in Cork City and we also know that our car dependence rate is very high. It's important that we keep investing in public and zero-carbon transport modes and infrastructure. We need to ensure that our cities are walkable and have excellent cycling infrastructure. It's really important that we design urban environments that will support behaviour change at scale going forward.
"As we seek to decarbonise Cork City, it's important to highlight that this will come with significant environmental health benefits including cleaner air, better public transport, more walking and cycling infrastructure, and a healthier population. It's important that we maximise these co-benefits where possible.
"The just transition is extremely important and as we rapidly decarbonise in the years ahead, we need to ensure that we don't leave anyone behind and we protect the most vulnerable in society," she said.
Read the Cork City Climate Action Plan including the Baseline Emissions Inventory Report here:
https://www.corkcity.ie/en/council-services/services/environment/climate-change/cork-city-climate-action-plan.html
Read the Cork City Council Press Release: https://www.corkcity.ie/en/council-services/news-room/latest-news/research-published-on-sources-of-cork-s-greenhouse-gas-emissions.html
Media coverage:
Irish Examiner - Dr Marguerite Nyhan - Two thirds of Cork city's greenhouse gases come from home energy and road transport - https://www.irishexaminer.com/news/munster/arid-41224876.html
Irish Examiner - Dr Marguerite Nyhan - Cork's most vulnerable citizens 'at risk from severe floods, coastal erosion, and drought https://www.irishexaminer.com/news/arid-41225170.html
Irish Independent - Dr Marguerite Nyhan - Kerry hub hosts Artificial Intelligence school - https://www.independent.ie/regionals/kerry/news/kerry-hub-hosts-artificial-intelligence-school/a658185459.html
Council Journal - Dr Marguerite Nyhan - Research Published On Sources of Cork's Greenhouse Gas Emissions - https://council.ie/research-published-on-sources-of-corks-greenhouse-gas-emissions/
Cork Independent - Dr Marguerite Nyhan - Cork to face more floods and droughts - https://www.corkindependent.com/2023/09/14/cork-to-face-more-floods-and-droughts/