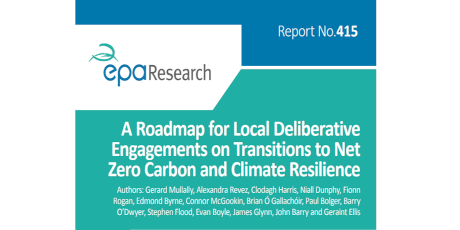 The transdisciplinary Imagining 2050 project sought to consolidate in a single project existing research capacity in Ireland in terms of societal transitions, climate mitigation and climate adaptation. The research consortium engaged with civic society using innovative approaches, to explore and co-develop future visions of, and pathways to, a low carbon and climate-resilient future. A crucial output of the project, the Deliberative Futures Toolkit was launched in April and the EPA has just published the cumulation of the projects activities and findings in the EPA Research Report 415: A Roadmap for Local Deliberative Engagements on Transitions to Net Zero Carbon and Climate Resilience, authored by ERI researchers Dr Gerard Mullally, Dr Alexandra Revez, Dr Clodagh Harris, Dr Niall Dunphy, Dr Fionn Rogan, Prof Edmond Byrne, Connor McGookin, Prof Brian Ó Gallachóir, Dr Paul Bolger, Dr Barry O'Dwyer, Dr Stephen Flood, Evan Boyle, Dr James Glynn with colleagues in Queen's University Belfast Dr John Barry and Dr Geraint Ellis.
Why was this research carried out?
The Climate Action and Low Carbon Development Act (2015) established a National Transition Objective to achieve the transition to a low carbon, climate resilient and environmentally sustainable economy by the end of the year 2050.
The Imagining 2050 project was funded to develop the understanding of what this objective means for the public, policy makers and the research community and how it might be achieved.In addition to considering what Ireland might be like in 2050, and what needs to change to meet the transition objective, the project also acted as a focal point for the National Dialogue on Climate Action (NDCA).
Watch the Project Highlights Video
What does it tell us?
The transition objective requires technological, political and societal responses. Individuals and communities must be engaged, informed, willing to participate and change their behaviour, and they must feel empowered that they have influence and a role to play in deciding the direction of these responses.
Deliberative approaches (e.g. Citizens' Assembly and NDCA) play an increasingly important role in informing both policy makers and the national conversation, but this must be broadened to include local engagement and action in response to the scale of social changes that will need to be addressed.
How might the research be used?
The project findings, tools and outputs can inform national climate action policy and the NDCA. The project introduced a novel approach, the 'deliberative futures workshop' and co-created the Deliberative Futures Toolkit, together with local, scientific and policy communities.
The toolkit:
Integrates deliberative dialogues into wider democratic and multi-stakeholder systems;
Provides a resource that can be used by communities and policymakers to engage in a deliberative way in climate action discourse and in co-developing and implementing climate action solutions;
Includes a range of interactive tools that can be integrated into the deliberative process and that encourages dialogue through the use of visual future-oriented methodologies.
Link to the Report:
EPA Research 415: https://www.epa.ie/publications/research/climate-change/research-415-a-roadmap-for-local-deliberative-engagements-on-transitions-to-net-zero-carbon-and-climate-resilience.php
Authors:
Dr Gerard Mullally, Dr Alexandra Revez, Dr Clodagh Harris, Dr Niall Dunphy, Dr Fionn Rogan, Prof Edmond Byrne, Connor McGookin, Prof Brian Ó Gallachóir, Dr Paul Bolger, Dr Barry O'Dwyer, Dr Stephen Flood, Evan Boyle, Dr James Glynn, John Barry and Geraint Ellis