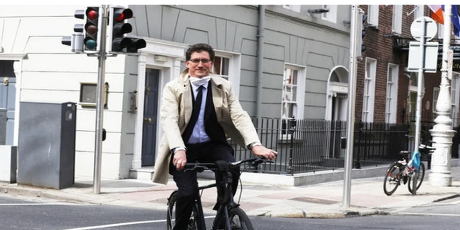 Opinion: the minister needs to focus on the challenging areas of transport and household heating where success will deliver benefits for all
Dr Paul Deane is a research fellow at the MaREI Centre for Marine and Renewable Energy and the Environmental Research Institute (ERI) at UCC. Jason Mc Guire is a PhD student at the MaREI Centre for Marine and Renewable Energy and the Environmental Research Institute (ERI) at UCC.
Eamon Ryan takes over responsibility for climate action and transport at one of the most unusual times in Ireland's modern environmental history. Ireland is on track for record levels of greenhouse gas emission reductions, but all the right things have happened for the wrong reasons. While some reductions have been due to policy on clean energy, it is mainly Covid-19 containment measures which have slashed emissions from cars and record-low global gas prices which have pushed coal out of the Irish electricity mix that have delivered the biggest reductions.
The low hanging fruit of significant emissions reductions by closing down big power stations is gone and now attention must turn to households and transport where we consume almost 80% of our energy. These areas are challenging and difficult because emissions reductions here are measured in tonnes rather than millions of tonnes. However, success also delivers wider benefits such as cleaner air and improved wellbeing which are often difficult to measure and communicate.
The banning of fracking and offshore exploration featured heavily in government formation talks. While these elements send an important international signal on Ireland's climate intentions, they don't reduce emissions in Ireland. Indeed, banning things we don't do doesn't make us a leader in climate action. However, being better at the things we are bad at, does.
From RTÉ Radio 1's This Week, interview with Green Party leader and Minister for Climate Action, Communication Networks and Transport Eamon Ryan
This is why transport and heating matter and needs the new minister's focus.
In the area of home heating, the draughtiest homes burning solid fuels emit about 20 times more than the best insulated homes using clean heating systems. These are some of the 160,000 homes that use peat or coal as a main fuel and here is where Ryan must start, as it will deliver the widest benefits.
Action here will also help address the significant problem of energy poverty in Ireland, a situation where over 400,000 families struggle to pay energy bills. It is hard to promote action on global warming if families are living in homes that are cold and damp and this is why social inclusion and fairness need to be an important element in any climate action strategy.
Our research has identified towns such as Moyne in Co Longford as a starting point for such changes. These measures will be costly and will likely require 100% grant funding, as most families can't afford the €40,000 plus budget to improve their home and change to clearer heating systems. The bulk of the cost can come from the carbon tax and it is important that the minister ensures transparency on where and how this tax is used. He is unlikely to get Hollywood tweets of congratulations for these efforts.
From RTÉ Radio 1's This Week, Carole Coleman reports on whether or not retrofitting schemes are actually working in making Irish homes more energy efficient
Traditionally, the area of retrofitting homes and addressing energy poverty has never captured the public attention like such ideas as electric cars, wind farms or putting solar panels on roofs. But what goes under the roof is just as important when it comes to reducing emissions and addressing poverty. This is what being a leader in climate action means and it has to be achieved one house at a time at a sustained level for the next 10 years
The second challenge for the minister is transport, which is now Ireland's and Europe's biggest contribution to energy emissions. The programme for government committed to a 2:1 ratio of expenditure between new public transport infrastructure and new roads over its lifetime. Reducing emissions in transport will take time to accumulate and again will deliver benefits in terms of cleaner healthier air, less congestion and greater wellbeing.
While the Covid-19 containment measures highlighted the link between less travel and reduced emissions, it is a poor proxy for the future and maintaining these reductions is unlikely. Few people will look back on this period with fondness and, like home heating, those who can't afford cleaner options risk social exclusion.
From RTÉ Radio 1's News At One, Sean O'Neill from Transport Infrastructure Ireland on how traffic volumes began to increase after lockdown measures were lifted
Low income workers who keep our shelves stacked with food and our petrol stations open have been disproportionately impacted by Covid-19 and Social Justice Ireland points to the 'working poor' who continually struggle to make ends meet. The ability to have access to reliable and affordable transport, be it personal or public, is key. While Ireland offers generous grants for people who wish to purchase a new electric car, the same benefit could be achieved by supporting public transport or carpooling.
When Ryan last held responsibility for climate action in 2007, he was key to Ireland's now successful wind energy industry. He championed the issue with enthusiasm and personal energy. It didn't happen quickly, and the benefits of many climate measures are sometimes seen by the next generation rather than before the next election. This time, Ryan must focus attention on the forgotten areas of transport and heating.