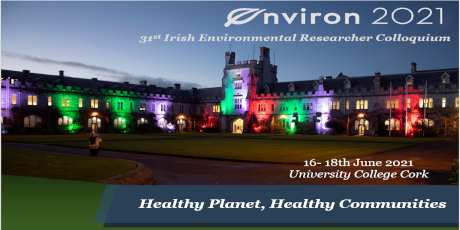 This year's conference, the 31st Irish Environmental Researchers Colloquium (Environ 2021), a collaboration between the Environmental Sciences Association of Ireland (ESAI) and the Environmental Research Institute at University College Cork will be hosted online on 16th to 18th June.
Environ is the longest running and largest forum for environmental researchers in Ireland with almost 300 delegates attending the event annually. It provides a high-visibility platform for young and experienced researchers to present their findings to an audience drawn from academia, government bodies and agencies, as well as industry.
This year's Environ is championed by the ERI The theme of Environ 2021 is "Healthy Planet, Healthy Communities". Planetary health and human health and well-being are inextricably linked; a stable and comfortable climate, clean air to breathe, high quality water to drink, and nutritious food to eat are just some of the services of a healthy planet to humans. The COVID 19 pandemic clearly illustrates the close link between the natural environment and people and that when we damage the Earth and its ecosystems, we damage our own health. It is increasingly recognised that the local environment in which we live can have a significant impact on our physical and mental health and wellbeing e.g. community access to high quality green spaces is now an integral part of urban planning. Communities and other societal actors can also be key catalysts in creating momentum for transitioning to a zero carbon and climate resilient society. At ENVIRON 2021, we therefore invite all presentations to reflect on how their research from disciplines including science, engineering, business, law, social sciences, and humanities are contributing to creating a Healthy Planet and Healthy Communities.
Session titles include: Water Quality & Resources, Wastewater & Water Reuse, Environmental Geoscience, Environmental Engineering, Environmental Management, Environmental Policy & Communication, Waste Management, Energy, Climate Change, Environment & Human Health, Ecotoxicology, Air Quality & Urban Development, Marine & Coastal, Sustainable Infrastructure, Sustainable Land Use, Agriculture & Food, Biodiversity & Ecosystems, Environmental Technology.
Building on last year's successful online event, this year, ESAI and UCC have joined forces with ExOrdo to deliver an exciting and engaging online conference experience. Registered delegates will have access to a suite of conference tools and can take part in virtual workshops, engage with keynote and plenary speakers and liaise with researchers and industry practitioners across the country during icebreaker sessions. The goal is deliver the full Environ experience from the comfort of your own home.
For more information on the full programme and how to register, please visit the Environ website.