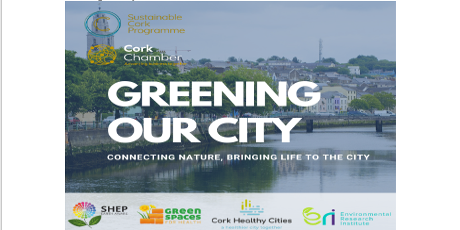 The ERI is delighted to announce the beginning of a series of seminars in partnership with SHEP Earth Aware, Green Spaces for Health, Cork Chamber and Cork Healthy Cities.
The Greening Our City series will concentrate on opening up a discussion on how we might make Cork 'green'. Looking at what this means from many different perspectives, we will be inviting expert practitioners in this field from both Ireland and abroad to share their thoughts, ideas and experiences with us and we will be providing ample opportunity for you to engage and discuss your responses in the sessions.
In this time of the creation of a new Cork City Development Plan 2022 to 2028 and influenced by our experiences as a city during the recent lockdown we consider now an opportune time to consider just what kind of a city we want to live in for the future.
The first session, via a zoom webinar will be given by Professor Marcus Collier on September 22nd from 2.20pm-4pm, titled Connecting Nature, Bringing Life to the City. Final Poster Connecting Nature Zoom
Professor Marcus Collier is Coordinator of Connecting Nature https://connectingnature.eu/urbanbynature a consortium of 30 partners within 16 European countries and hubs in Brazil, China, Korea and the Caucasus. Connecting Nature works with local authorities, communities, industry partners, NGOs and academics who are investing in large scale implementation of nature based projects in urban settings. It measures the impacts of these initiatives on climate change adaptation, health and well being, social cohesion and sustainable economic development in these cities. It is also developing a diversity of innovative actions to nurture the start up and growth of commercial and social enterprises active in producing nature based solutions.
To register for this talk please BOOK HERE
All are welcome, this event is free of charge.