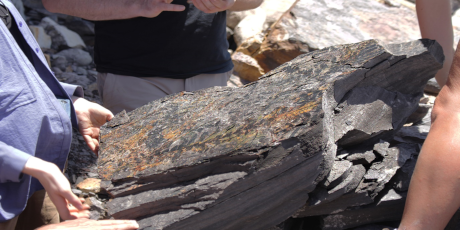 Ireland's Fossil Heritage (led by Prof Maria McNamara of the ERI and School of BEES) is excited to announce to launch of their very first fossil art exhibit. The launch will take place at 11 am on the 9th of June in the Glucksman Gallery.
The exhibition will celebrate the artwork of Irish schoolchildren – and fossils - in two exciting new collections, FOSSIL FREAKS and IRISH FOSSILS ALIVE.
FOSSIL FREAKS features art pieces created by students from primary schools in Cork city. The artworks are inspired by strange and unusual fossils from around the world and were created during a series of school workshops developed by Cork-based artists Susie Walsh and Leah Murphy in collaboration with palaeontologists from Ireland's Fossil Heritage.
IRISH FOSSILS ALIVE features the winning art pieces from the 2022 National Fossil Art Contest. Young artists were invited to create a unique art piece inspired by the rich fossil heritage on the island of Ireland. We received hundreds of entries from children all over Ireland. The winning entries encapsulate a broad range of interpretations of the contest brief. The winning artworks include pencil sketches, chalk sketches, paintings, prints and mixed media. Some artworks exhibit the fossils as they appear now; other artworks reimagined the fossils as living creatures, and some entries show both past and present versions of these ancient creatures.