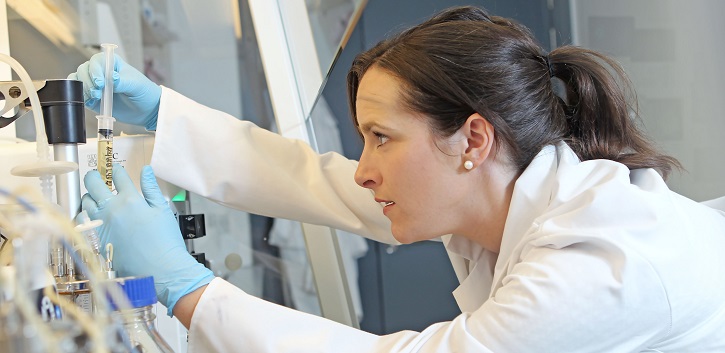 The €230 million investment, by the Department of Business, Enterprise and Innovation through SFI, will directly benefit approximately 850 researchers employed by the six centres.
A world-leading research ecosystem in Cork
The SFI Centres located within UCC that were awarded funding are:
UCC also co-leads The Insight Centre for Data Analytics which was also awarded funding, while UCC is also a partner in the other SFI centres that were awarded funding in today's announcement.
Minister of State for Training, Skills, Innovation, Research and Development, John Halligan TD, said at the announcement today, "SFI Research Centres are a huge draw for high quality sustainable jobs both directly and indirectly. They are agents of change, providing new ways of thinking and offering alternative solutions to issues and challenges that we face in many sectors."
Commenting, Professor Patrick O'Shea, President of UCC stated "congratulations to the SFI research centres located within UCC. This is a wonderful testament to the world leading research ecosystem here in Cork."
"The SFI Centres have had a very significant impact on the research landscape nationally, in particular in catalysing the expansion of collaboration with key national and international industry partners" stated Professor Anita Maguire, Vice President of Research & Innovation at UCC. "We now look forward to further exciting advances as the Centres build on the momentum developed during the first phase of investment. Importantly, the Centres also provide an exciting and supportive interdisciplinary environment for early career researchers in areas as diverse as renewable energy, the interface between food and health, photonics, and data analytics."
New Director appointed at APC
Today's announcement comes as Science Foundation Ireland approved the appointment of Professor Paul Ross, as Director of APC Microbiome Ireland. Since 2014, Paul has served as Head of College of Science, Engineering & Food Science. He has been Deputy Director of APC since 2016 and Principal Investigator in the Microbes to Molecules research theme since APC's foundation in 2003. Professor Ross takes over from Professor Fergus Shanahan who has been Director of APC Microbiome Ireland since its foundation in 2003.
"Under Fergus' insightful direction APC has become a global leader in microbiome science with wide-ranging impacts including contributions to economic growth, development of human skills, scientific and medical discovery" commented Professor Patrick O'Shea, President of UCC. "I wish Fergus the very best for this future endeavours and the very best to Paul as his assumes his role at this world leading centre."