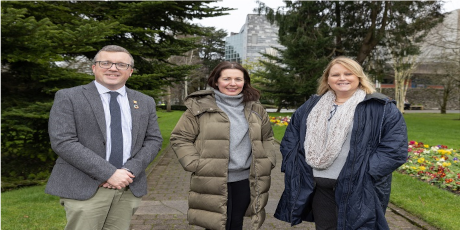 Dr Eoin Lettice (ERI, School of BEES) and Dr Tom Doyle (ERI, School of BEES) are amongst the recipients of the SFI Discover Awards 2022 for projects aimed at improving public understanding of science, technology, engineering, and maths (STEM).
The overall funding, which totals €3.7 million, will be focused on encouraging diversity and inclusion in STEM, while also targeting a wide range of ages including young children, teens and adults.
Announcing the funding, Minister Harris TD said: "I am delighted to announce today the 47 projects receiving funding through the SFI Discover Programme. These projects will have an invaluable impact, starting conversations about the role of STEM in society and inspiring our young people to explore careers in these areas. Through initiatives such as the SFI Discover Programme, we must support the public to have access to, and understand, the issues that impact our collective future, and the role science and technology can play in providing solutions. I wish all the recipients every success in the rollout of their projects."
Dr Lettice's award sees a re-investment in the popular Tree Explorer's project which uses the historic and nationally important University College Cork Arboretum to engage primary school students as well as adults with STEM topics. Dr Doyle's project Jellyfish Fantastic aims to increase ocean literacy through creative design and participation.
Speaking of the projects co-funded by the Department of Education, Minister Foley said: "We are pleased to collaborate with the Department of Further and Higher Education, Research, Innovation and Science by supporting five projects that will receive funding through the SFI Discover Programme. These projects are designed to grow and encourage participation in STEM education and public engagement, inspiring our young people to explore STEM roles in the future. I want to congratulate all of the individuals and teams involved in their work to date on these projects."
Commenting on the announcement, Prof Philip Nolan, Director General, Science Foundation Ireland, said: "The SFI Discover Programme is a key part of our education and public engagement strategy and aims to grow opportunities for dialogue between the research community and the public. Our research improves people's lives and we can only do that if we work in partnership with the public at all stages of the research process. The programme also aims to improve diversity and inclusion in science, broadening participation geographically and amongst less represented voices in research. STEM is such an exciting area to study and work in and we want to make it more accessible to a wide range of people. We are looking forward to working with these fantastic, creative education and engagement programmes."