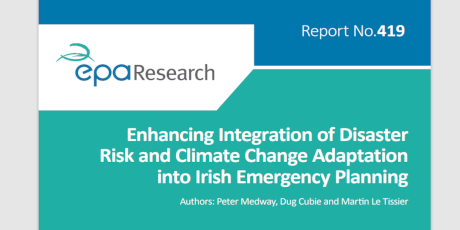 The EPA has just published the EPA Research Report 419: Enhancing Integration of Disaster Risk and Climate Change Adaptation into Irish Emergency Planning authored by ERI researchers Dr Dug Cubie and Dr Martin Le Tissier with colleague and humanitarian consultant Peter Medway.
Why was this research carried out?
Climate research tells us that extreme weather events will become more frequent and severe. Climate change adaptation focuses on the probable chronic long-term impacts likely to occur across multiple sectors. In contrast, emergency planning and disaster risk reduction primarily aims to address acute short-term impacts. The challenge is to balance the immediate risks of extreme weather and climate events with planning for how these threats will evolve and alter future vulnerabilities of communities and/or environments.
This research was funded to identify ways to enhance and reconcile integration of knowledge, policies and practices between climate change adaptation and disaster risk reduction/management.
Watch the Project Highlights Video Here
What does it tell us?
In Ireland, there is a portfolio of policies, plans, strategies and reports that address the consequences of climate change and emergency planning. However, emergency management and Climate Change Adaptation are currently two discrete systems for governance, management and coordination at the national level.
This desk study shows that emergency response planning is different from developing a long-term risk management policy that acknowledges Ireland's increasing vulnerability to the climate crisis.
There is no nationally shared understanding of what constitutes "risk" and "resilience" to short-, medium- and long-term change, and how best to develop an integrated and holistic approach to both the long-term Climate Change Adaptation needs and the more immediate emergency risk management needs..
How might the research be used?
The research identified a roadmap to facilitate the objective of preparing for and responding to the climate crisis, and to more readily achieve integration of climate change adaptation and disaster risk reduction into Irish emergency planning. This roadmap will assist government, key stakeholders and sectors most likely to be affected by the existing and increasing risks of climate change to achieve greater coherence and integration between the emergency management and climate adaptation frameworks in Ireland.
Link to the Report:
EPA Research 419: https://www.epa.ie/publications/research/climate-change/research-419-enhancing-integration-of-disaster-risk-and-climate-change-adaptation-into-irish-emergency-planning.php
Acknowledgements
This research is published as part of the EPA Research Programme 2021-2030. The EPA Research Programme is a Government of Ireland initiative funded by the Department of the Environment, Climate and Communications.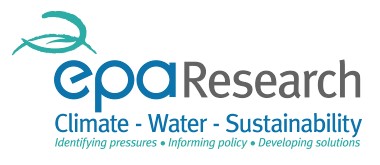 Disclaimer
Although every effort has been made to ensure the accuracy of the material contained in this news story, complete accuracy cannot be guaranteed. Neither the Environmental Protection Agency nor the authors accept any responsibility whatsoever for loss or damage occasioned or claimed to have been occasioned, in part or in full, as a consequence of any person acting or refraining from acting, as a result of a matter contained in this news story.