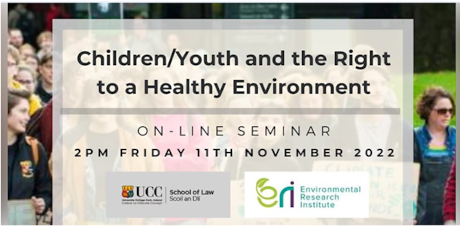 The right to a healthy environment is increasingly recognised at international level. Youth climate activists/advocates have been key to progressing action against climate change. Coinciding with COP27, Dr Aoife Daly of the School of Law, Centre for Law and the Environment and the ERI is convening an online event at which children and youth will meet to contribute to the decision-making process around the UN Climate Change Convention. Speakers at this event will reflect on the significance of the right to a healthy environment for children and youth, particularly from the perspective of the UN Convention on the rights of the child.
Speakers Include:
Alicia O'Sullivan, Law Student/Climate Justice Advocate, University College Cork, 'COP and the experience of children and youth advocates'.
Dina Lupin, Director of Global Network on Human Rights and the Environment/Lecturer, University of Southampton, 'What is the right to a healthy environment'.
Maria Antonia Tigre, Global Climate Litigation fellow at the Sabin Center for Climate Change Law, Columbia Law School, 'Climate litigation and the Global South'.
Aoife Nolan, Professor, University of Nottingham, 'Children's Rights and Future Generations' Rights - Ensuring Mutual Support'.
Alana Lancaster, Lecturer, University of West Indies, Barbados, 'Children's rights and the ocean'.
Aoife Daly, Lecturer, University College Cork, 'Child/youth climate activism: A Postpaternalist Era for Children's Rights?'.
Register here: https://www.eventbrite.ie/e/childrenyouth-and-the-right-to-a-healthy-environment-tickets-444543610907
Enquiries to Dr Aoife Daly aoife.daly@ucc.ie