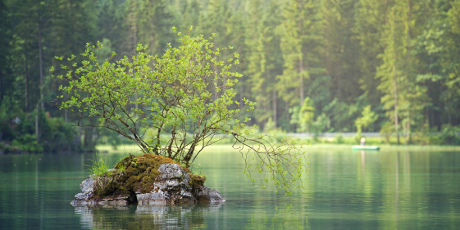 A new study published in Nature reveals the true extent of river fragmentationand offers some solutions.
Research stemming from AMBER, a large collaborative Horizon 2020 project including a UCC-based team of researchers, has found that Europe's rivers have at least 1.2 million instream barriers. The results published in Nature show that Europe has probably some of the most fragmented rivers in the world. The study detected thousands of large dams but also a myriad of low-head structures such a weirs, culverts, fords, sluices and ramps which had been overlooked and are the main culprits of fragmentation.
Using barrier modelling and extensive field ground-truthing, the study estimated that there are least 0.74 barriers per km of stream, and produced the first comprehensive pan-European barrier inventory, the AMBER Barrier Atlas. "The extent of river fragmentation in Europe is much higher than anyone had anticipated", says Barbara Belletti, a river geomorphologist who led the study at Politecnico di Milano and is now at CNRS, the French National Centre for Scientific Research.
"Many barriers are obsolete and removing them provides unprecedented opportunities for restoration", says Carlos de Garcia de Leaniz, AMBER's coordinator; "our results feed directly into the new EU Biodiversity Strategy and will help to reconnect at least 25,000 km of Europe's rivers by 2030".
"As part of the EU Horizon AMBER project we have been attempting to identify those areas of a river where Atlantic salmon are stressed, in distress, or excluded or where the conditions to sustain the species no longer exist. This applies in river systems throughout Europe. The 'Broken Rivers' database and analysis is a fundamental element of that effort' says Prof Philip McGinnity, a Research Professor in UCC and a contributing author to the report.
Prof Sarah Culloty, Director of the Environmental Research Institute and Head of the College of Science, Engineering & Food Science, welcoming the publication of the paper and UCC's contribution said "the impact of the river barriers identified will be exacerbated by global warming. Data like these provided here will be critical to managing future risk, prioritisation of action and co-ordination of responses. This is definitely a research area with enormous potential in providing adaptive strategies for ameliorating the effect of climate change.
Prof Andy Wheeler, Head of the School of Biological, Earth & Environmental Sciences said 'I am very concerned that recent reports from the EPA show the ecological quality of Ireland's surface waters continues to decline with nearly half of the water bodies in Ireland failing to meet the objectives set by the EU Water Framework Directive. I believe restoring the connectivity of our rivers by removing obsolete barriers would make an important contribution in helping to improve conditions, but as is highlighted in the report, taking away old barriers is not much good if you are going to build new ones elsewhere'.
AMBER has received funding from the European Union's Horizon 2020 Research and Innovation Programme under Grant Agreement 689682.
AMBER seeks to apply adaptive management to the operation of dams and other barriers to achieve a more sustainable use of water resources and a more efficient restoration of stream connectivity. The project has developed tools and simulations to help water companies and river managers maximize the benefits of barriers and minimize ecological impacts. AMBER's main outcomes include
All AMBER outputs are freely available and can be downloaded from the project website (www.amber.international)