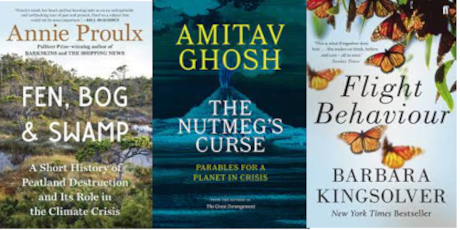 Our researchers selected their favourite books on themes of sustainability, environment, climate change, nature and ecology.
"One suggestion from this years' pop science publications would be "Fen, bog and swamp" by Annie Proulx. I'm a fan of Proulxs' fictional prose but bias aside, this essay on the destruction of wetlands is light on sometimes brain-tightening stats and highly accessible to lay audiences. I would recommend!" - Linda O'Higgins
"For me it has to be The Nutmeg's Curse by Amitav Ghosh. Ghosh is a superb writer and a deep thinker. This book will change how you think about climate change, modernity and the importance of learning from history if we are to have a future." - Ian Hughes
"I would recommend 2 of Barbara Kingsolver's books -Flight Behaviour and Prodigal Summer, both fictional page-turners steeped in nature with wonderfully descriptive language! Similar to authors like Dehlia Owens who were zoologists/ecologists or where environmental issues feature but are not too heavy!" - Aoife Deane
"Michael E. Mann's new book, "The New Climate War: The Fight to Take Back Our Planet", is a clear-eyed account of the decades long climate crisis we face and the inaction existing energy incumbents have promoted in order to protect their profits at the expense of the rest of us. Despite its subject matter, it is a surprisingly hopeful book. We already have the tools and technologies to tackle the climate crisis, we just need the political will to implement them and allow for the creative destruction of those industries destroying the planet for the rest of us." - Breffini Lennon
The Collapse of Western Civilization: A View from the Future by Naomi Oreskes and Erik M. Conway.
"One of the difficulties with understanding our political and social climate inertia is being too close to this moment. In this short book/novella, Naomi Oreskes (a philosopher of science) and Erik M Conway (a technology and science historian) try to tackle this by imagining how future historians—looking back at us now—might think about our difficulties and failures. While somewhat US-centric, thinking about climate inaction with the distance of time really changed my perspective and it might change yours as well." - Kian Mintz Woo
Joanna Macy and Chris Johnstone, Active Hope: How to Face the Mess We're In With Unexpected Resilience and Creative Power
"If you've ever experienced grief, fear or anger in connection with the state of the planet, then this is the book for you. It's a guide to transforming disempowering feelings and thoughts into creative energy and positive action, and it's a book you'll come back to many times." - Caitríona Ní Dhúill
"One book I'd definitely recommend is 'An Irish Atlantic Rainforest' by Eoghan Daltun. I first came across Eoghan and this book when he guest hosted the Twitter account Ireland's Environmentalists and found his account of rewilding land in West Cork absolutely fascinating. I would highly recommend it to anyone interested in rewilding and the status of Ireland's natural heritage." - Hannah Brownlow
The Badgers of Wytham Wood- A Model for Behaviour, Ecology and Evolution. by David Macdonald and Chris Newman.
"Much more than about badgers, also about effects of climate change, and environment both physical and social, on a well- studied population. Price outrageous, but probably worth buying." - Paddy Sleeman
What We Owe The Future: A Million-Year View by William MacAskill
"A thought provoking book on the simple idea of taking a long term view to human living and the powerful possibilities it can bring for those who follow." - Paul Deane
A Sand Country Almanac by Aldo Leopold
"A book for environmentalists and nature lovers. Aldo Leopold paints a detailed and beautiful picture of the American countryside, its flora and fauna, as the seasons change. It is an adventure into the wilderness and an exploration our relationship with nature. The world has changed since its first publication in 1949 but the message is just as important today as it was then--we must protect nature, we must protect the world we love." - Roisin Moriarty
"After being on my reading list for a couple years, I finally got a chance to read Braiding Sweetgrass: Indigenous Wisdom, Scientific Knowledge, and the Teachings of Plants by Robin Wall Kimmerer, who is a Powatomi professor of environmental and forest biology. It's an astonishingly beautiful book that affirms many of the feelings that drive us towards the environmental sciences, asking important and profound questions that have fundamentally broadened my thinking, and showing what science can learn from the cultures of indigenous peoples. Kimmerer breathes life into every page and highlights the importance of connection — to the landscape and organisms, to cultural history, to each other — and gives one some much-needed hope in a time of crisis. There were so many sentences I underlined!" - Amy Dozier
Jackson, Tim 2021. Post Growth. Life after Capitalism.
"University of Surrey economist and thought leader Tim Jackson produces a typically informed, provocative and compelling argument and narrative; as it says on the tin."
Sage, Colin L. (ed.) 2022. A Research Agenda for Food Systems.
"Recently of our own parish, this represents an academic collection, but one which sets the agenda with the definitive word on global food systems research, in all its facets, interconnectedness and complexity." - Ed Byrne
The Invention of Sustainability, by Paul Warde.
"A genuinely fascinating history full of quotes from primary documents. The 16th century politics of wood forsehadowed the modern politics of sustainability." - Fionn Rogan
You can read a full list of Fionn's book recommendations from 2022 right here on his Twitter profile.
"Tina Claffey's "Portal", a really nice book of close-up bog flora photography." – Paul Leahy