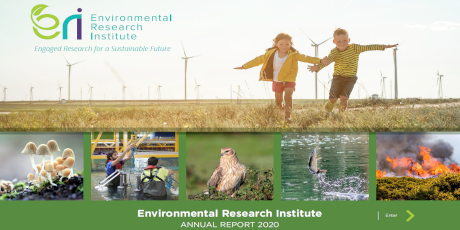 We are delighted to share the 2020 Annual Report from the Environmental Research Institute at University College Cork. The report is our yearly opportunity to take collective stock of the diverse research being conducted by the Institute's 400 researchers across 20 departments and 6 research centres, and reflect on how that research has made its impact upon the academic world and society.
The year 2020 was synonymous with COVID-19. It has been an unprecedented year for our University and Institute. In March 2020, like the rest of the world, we closed our campus and transformed into a remote operation switching very quickly to different delivery modes for our academic programmes. Our research system has been put under immense strain with researchers not being able to access labs, carry out fieldwork, and struggling to meet research deliverables under disappearing budgets.
The ERI has played a leading role in the pandemic response in the University and nationally. In the first few weeks of the COVID-19 restrictions, a number of our research groups responded by manufacturing personal protective equipment for front-line staff using 3-D printing technology. Our research teams were awarded funding under the COVID-19 Rapid Response Call across a range of areas including tracking COVID-19 clusters, airborne surveillance of COVID-19 virus in work environments, COVID-19 community wide surveillance via wastewater-based epidemiology, and modelling of the dynamics of social and physical distancing. In mid-2020, the Institute hosted a webinar series where our academic staff reflected on the impact of the COVID 19 pandemic on our environment, and the possible lessons we can take forward to create a more sustainable society. Throughout 2020 our staff have been very prominent in the news and media bringing the latest scientific knowledge to bear on different facets of the pandemic as illustrated in this 2020 ERI Annual Report
Despite the many challenges placed on us by the COVID-19 pandemic, 2020 was very successful year for the Institute. The cross-university 'Sustainable Futures' project led Dr Marguerite Nyhan was awarded €3.9M under the Higher Education Authority's Human Capital Initiative to develop a range of new educational offerings for enterprise to catalyse the transition to zero carbon and resource efficient business in Ireland.
The Institute had a number of "firsts" in 2020. We were delighted to welcome Professor Gerry Killeen to UCC as the first ever recipient of an AXA Research Chair in Ireland; the €1M AXA award will focus on eradicating malaria while also fostering improved management of wildlife areas in Africa. Professor Justin Holmes became the first researcher in Ireland to coordinate two FET-Open proposals; in the "RADICAL" project he is working with Professor John Wenger and Dr Stig Hellebust to build low cost instruments that will measure the presence of harmful atmospheric radicals in the air, and in the TRANSLATE project he will develop an advanced heat-to-electrical energy harvesting technology. Professor Maria McNamara was a recipient of a prestigious €2m ERC Consolidator grant to explore how key biomolecules such as melanin, keratin and collagen evolved in animals.
The impact of ERI research was also evident in 2020. In a significant example of ERI research directly informing government policy, Professor Áine Ryall and Dr James Glynn were invited as expert witnesses to the Oireachtas Joint Committee on Climate Action during pre-legislative scrutiny of the Climate Action and Low Carbon Development Bill. International research by Dr Christie Godsmark highlighted the significant risk to human health from extreme heat due to climate change in African countries. In research to quantitatively characterise several cold water coral habitats in the North East Atlantic Professor Andy Wheeler's Marine Geology Group made the troubling discovery of micro-plastics at a depth of 2,125m. Research by Professor John Quinn and his colleagues demonstrated that use of breeding information signs for tourists around bird colonies can play a significant role in protection of vulnerable nesting sites.
The Institute, its researchers and centres attracted a €17.4 M in research and educational funding in 2020. The Institute and centres were awarded 75 new research projects bringing the current total to 274 active research projects worth over €76.8 M. Institutes researchers published a record 426 peer reviewed publications and 42 postgraduates graduated under the supervision of ERI affiliated academics in 2020.
If you would like to read more about our ongoing research and outreach activities please visit the News page on our website.
If you would like to collaborate with us on future research or public engagement projects, please visit our Work With Us page, to see the many ways we can connect with you.