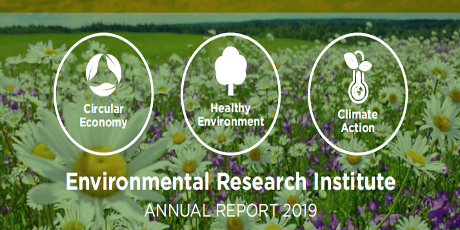 Welcome to the 2019 Annual Report from the Environmental Research Institute at University College Cork. The report is our yearly opportunity to take collective stock of the diverse research being conducted by the Institute's 400 researchers across 20 departments and 6 research centres, and reflect on how that research has made its impact upon the academic world and society.
2019 was the year where the urgency of environmental action was brought to our attention by young activists; the children and students protesting in schools and colleges, including here in UCC, held a light to the lack of action on climate change for the past two decades. However 2019 also showed signs of progress on climate change. We may be reaching a social tipping point on climate action with nine European citizens out of 10 asking for decisive climate action reflected in an electoral "green wave" across Europe and in Ireland. The confluence of social tipping points with significant decarbonisation investment means that, more than ever, we critically need our researchers to engage with societal stakeholders to co-produce action-oriented research.
The Institute is particularly proud of how its researchers and centres, through a range of research projects and initiatives, are working with communities, industry, policymakers and NGOs to produce a more sustainable planet. Our 2019 Annual Report highlights the diverse approaches with which Institute researchers are addressing sustainability challenges, many of which crucially involve close collaboration with communities such as:
The Imagining 2050 and MaREI Dingle Peninsula 2030 projects.
The Centre for Law and the Environment's high profile events on Climate Law and Governance during the 2019 Law and the Environment conference and the UCC 2019 Community Engagement Week.
The Cleaner Production Promotion Unit hosted a highly attended public talk on "Citizen Engagement – Envisioning Energy Futures" to explore citizen preferences for low carbon energy pathways.
It was also wonderful to see our environmental, energy and climate research in ERI and MaREI profiled so extensively across TV, radio and on-line during Science Week culminating in key climate and energy scientists from MaREI meeting An Taoiseach Leo Varadkar to discuss how Ireland can lead the charge of climate change adaptation, mitigation and transition.
The ERI was very pleased co-host a 2-day public workshop on "Cork - a Healthy City in a Changing Climate" in 2019 which identified key actions to mitigate the impact of our changing climate on our health and wellbeing in Cork City, and we also had the largest scientific conference ever to be held in Cork in 2019 when Dr Cian Desmond hosted the 2019 Wind Energy Science Conference (WESC) in UCC.
We were delighted to receive the second round of funding for the SFI MaREI Research Centre for Energy, Climate and Marine in 2019 and we were also very pleased to have the LiR National Ocean Test Facility in the ERI Beaufort Building officially launched by An Tánaiste, Simon Coveney in January 2019.
If you would like to read more about our ongoing research and outreach activities please visit the News page on our website.
If you would like to collaborate with us on future research or public engagement projects, please visit our Work With Us page, to see the many ways we can connect with you.
To view the 2019 Annual report in full please click here