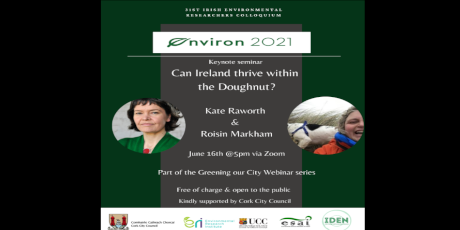 Can Ireland Thrive Within the Doughnut?
We welcome the public to join us at Environ 2021, the 31st Irish Environmental Researchers Colloquium for a co-keynote talk from Kate Raworth (author of Doughnut Economics), environmental economist focused on exploring the economic mindset needed to address the 21st century's social and ecological challenges, and Roisin Markham, founder and network steward of the Irish Doughnut Economics Network (IDEN). Kate and Roisin will provide an overview of the Doughnut Economics model and discuss how this could be applied in an Irish context.
This session has been kindly sponsored by Cork City Council.
This event will be held online on Wednesday June 16th from 17:00 to 18:30.
It is free and open to members of the public, local stakeholders, professionals and students.
Click here to register on EventBrite
Download event flyer here.