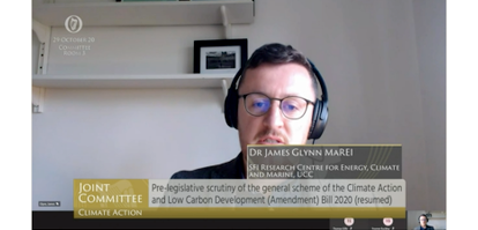 In a significant example of ERI research informing government policy, ERI and MaREI researcher Dr James Glynn of the Energy Policy and Modelling Group (MaREI, ERI, School of Engineering) was this week invited to provide input into the Climate Action and Low Carbon Development Bill in relation to the role of carbon capture and offsetting in reaching carbon neutrality.
The Oireachtas Joint Committee on Climate Action is currently conducting pre-legislative scrutiny of bill which proposes that Ireland moves to a climate neutral economy and net zero emissions by 2050. This ambition represents a potential game changer for carbon capture and storage (CCS) technology options for Ireland.
Dr Glynn has welcomed this bill, particularly the attention paid to define and implement carbon budgets, but noted that there was still room for improvements. Dr Glynn and colleagues recently published research on national and global bases on the role of carbon capture and storage in zero carbon energy systems consistent with the Paris Agreement, and James highlighted key points from this research to support his evidence and his recommendations for improvements.
Recommendations
Reinstate the pursuit and achievement of a minimum acceptable goal to be included for objective measurement of targets in the bill.
Consider a binding carbon budget for the period from 2020 until climate neutrality (2050) is achieved.
Investigate whether an overarching carbon budget should be included in the long-term climate action strategy time-horizon of analysis bounded by the projected expected year of temperature stabilisation (30-50 years).
Explore whether sectoral carbon budgets could be allocated based on carbon intensity per value added per NACE category sector.
Acknowledge the role of early dialogue and societal buy in. Behaviour change and demand reduction will be required. The national objective is unlikely to be met by technological means alone.
Implement the Paris Agreement rachet mechanism such that, 5 year carbon budgets should not be larger than the previous 5-year cumulative emissions.
The bill should consider Ireland's offsetting and trade mechanisms as well as multi-lateral responsibilities to developing nation's ability to decarbonise and to consider the impact of international aid into account on offsetting within Irish carbon budgets.
Dr Glynn also observed that the ambiguity in some of the language of the bill also means that one cannot measure or define whether or not commitments within the bill are being met, and recommended scientifically explicit language to be used within the bill.
Carbon Capture and Storage – a catch-up
How does it work?
When fossil fuels are used to generate electricity at a power station, the carbon dioxide can be 'captured', e.g. by absorbing it in a suitable solvent from the exhaust of the combustion process.
The CO2can then be transported (by truck, ship or pipeline to a storage location
In Ireland, the depleted Kinsale gas field has been identified as a suitable location for CO2
Why is it important?
Scientific analyses indicate that achieving deep decarbonisation without CCS is more expensive and more challenging.
If we generate electricity using biomass with CCC we can produce electricity with negative emissions
Having negative emissions option allows more time to deal with the 'hard to decarbonise' sectors (e.g. agriculture)
How soon can it be implemented?
Currently CO2 storage is not permitted in Ireland and so would require a legislative change
Ireland can however export the CO2­and Norway is 'open for business' – e.g. the Northern Lights project – a collaboration agreement between Equinor, Shell and Total
Where to now?
We need a full and open discussion about CCS and to develop a strategy for Ireland. There are concerns that a focus on CCS will take our eye off the ball regarding other options (energy efficiency or reduced consumption), so this option needs to be considered as part of a broader behavioural and societal change of attitude regarding our energy usage.
On the same day, the Committee heard from Professor Yvonne Buckley, Professor of Zoology at Trinity College Dublin who emphasised the need to prioritise protection of biodiversity and consideration of nature-based solutions to reducing our nation's carbon output.
You can read coverage of the meeting in the Examiner and the Irish Times.
You can read Dr Glynn's full opening statement to the Committee here.
You can watch the recording of the proceedings here.