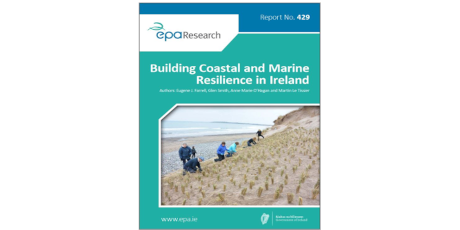 The EPA has published the EPA Research Report 429: Building Coastal and Marine Resilience in Ireland (BCOMAR) authored by
Eugene J. Farrell, Glen Smith (ERI, MaREI), Anne Marie O'Hagan (ERI, MaREI) and Martin Le Tissier (ERI, MaREI).
Why?
In Ireland climate change impacts will disproportionately affect those who live in coastal communities, due to their inherent vulnerability to repeat flooding.
Adaptation to these climate impacts is urgent and will need all of society to participate in meeting this challenge. However, there are many barriers to this adaptation at the local scale, including feelings of disempowerment, knowledge gaps and institutional or technical barriers.
The BCOMAR project used two case study communities to highlight how climate action and resilience building can be strengthened at the local scale.
Watch the Project Highlights Video: https://youtu.be/a4_87FIeuZA
What does it tell us?
The project developed tools, that empowered the communities to better participate in climate action and adaptation and enabled them to identify barriers to this participation at the local level.
The project empowered these communities to identify knowledge gaps in coastal science, policy, governance and management that will be required to build local-scale resilience.
The project identified key institutional barriers (governance; legal responsibility; stakeholder forum; tourism) and technical barriers (climate adaptation; funding; environmental designation; lexicon of climate resilience and sustainability; erosion and flooding; seasonal tourism) to coastal communities building resilience to climate change.
How might the research be used?
This research can be used as a template for coastal communities, both rural and urban across Ireland, to empower themselves to meet the challenge of climate action and adaptation. Outcomes of the research include enabling these communities to build effective local capacity (in the short and long terms) and to establish forums to structure and discuss their knowledge, exchange new knowledge and enhance existing capacity. These forums can also be used to for discussion between national-, regional- and local-level stakeholders to address the relationship between higher level priorities and lower level (local) problems.
The research also highlights how these communities can access funding and other resources that would allow the willingness of communities to engage and share their learning, present "best practices", build a relevant knowledge base and exchange ideas to be exploited. These outcomes provide a means for these coastal communities to develop a shared understanding of what they need to become resilient to, and to design a plan for implementing the transformations needed to overcome the risks and vulnerabilities that climate change present.
Link to the Report: