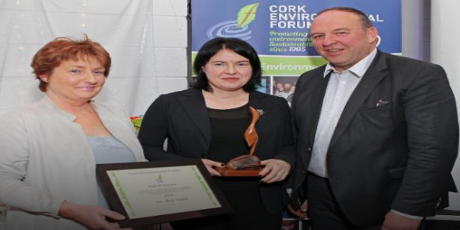 Dr Áine Ryall, Centre for Law and the Environment, has been awarded the Public Sector Award at the Cork Environmental Forum Awards 2019 held at the Firkin Crane Centre on 27 November 2019.
Cork Environmental Forum (CEF) has held its Annual Environmental Awards Ceremony since 2001.
The Awards acknowledge, honour and celebrate the outstanding actions of groups, organisations and individuals that are in keeping with the spirit of sustainable development and community resilience, including raising awareness on environmental sustainability.
Awards are made across the main pillars of the Forum: Public Sector; Business and Commercial Sector; Community and Voluntary Sector; Individual Category; and Sustainable Agriculture. Nominations are accepted from Forum members and members of the public. Áine Ryall was nominated by Mr Declan Walsh, School of Law, UCC.
Áine was presented with her award by Attracta Uí Bhroin, Environmental Law Officer, Irish Environmental Network (a network of nationally active environmental NGOs) and Vice-President EEB – The European Environment Bureau (the largest European membership-based network of environmental NGOs).
In presenting the Public Sector Award to Áine Ryall, Attracta Uí Bhroin stated:
"Áine takes the term public service to a new level. She has in my view done more to protect the environment than any other Irish person I have had the honour of knowing – through her influence on the rule and exercise of law in so many jurisdictions; her influence of future generations through her teaching; and her outreach enabling learning and networking across such a wide and diverse community including - legal practitioners, public authorities, and ordinary people, not to mention the accessibility, intellect and integrity she brings to everything she touches."
Accepting the Public Sector Award, Áine Ryall acknowledged CEF's outstanding and inspirational contribution in promoting the sustainability agenda and environmental protection initiatives in Cork City and County over the past 24 years.
Also honoured at the Awards Ceremony was UCC EnviroSoc who received a Commendation in the Community and Voluntary Sector Award category.
More info on the Centre for Law and the Environment: https://www.ucc.ie/en/lawenvironment/
More info on the Cork Environmental Forum: http://www.cef.ie/