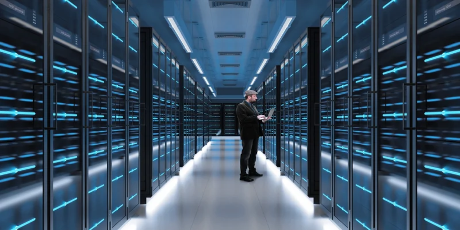 Analysis: hundreds of data centres across Europe hold data from millions of people, but right now they're a problem for our green ambitions - Dr Paul Deane, Senior Research Fellow, Energy Plicy & Modellign Group, MaREI Centre/ERI
We lead data-hungry lives. With every click, tap and stream recorded we are generating quintillions of bytes data every day, much of which lives in the "cloud", processed or stored in energy and resource-guzzling data centres. But as Europe dives head-first into digitalisation and decarbonisation, its also examining how data centres and the green transition can co-exist.
Microsoft, Google, Facebook, Amazon web services are some of the largest providers of data centres, including in Ireland, while France, UK, Germany and the Netherlands are the European countries with the highest number of data centres. Industry group Host in Ireland, however, describes the Dublin Metro Area as "Europe's largest data centre market".
Energy consumption by data centres in the EU28 increased from 53.9 to 76.8 terawatt-hours on average (TWh/a), over the period 2010-2018, says Alessandro Lanza, Adjunct professor of Energy and Environmental Policy at Luiss University, Rome. This means that in 2018, data centres accounted for 2.7% of the electricity demand in the EU28 on average.
A November 2020 study from the European Commission (EC) on the need for greener data centres, showed that, at the current trajectory, energy consumption of data centres in EU Member States is expected to increase from 2.7% of the electricity demand in 2018 to 3.2% by 2030. Back on Irish soil, Eirgrid, Ireland's electricity grid operator, has projected data centres located here could gobble up as much as 23% to 30% of our electricity by 2030, 10 times as much as the projected European average.
We have around 70 operational data centres in Ireland, 65 of which are in the Dublin area. CSO figures show electricity consumption by data centres increased by 32% between 2020 and 2021 alone, putting worrying strain on our grid. Data centres now consume 14% of our metered electricity, more than all our rural dwellings put together (12%). For comparison, 2.7% of total electricity supplied via the national grid in the Netherlands in 2019 went to data centres. Like in Ireland, where we introduced a temporary moratorium on new data centres in Dublin, the Dutch government implemented a moratorium on data centres in Amsterdam in 2020.
Ireland's environment minister Eamon Ryan has said that the issues around data centres in Ireland are "a short-term problem" until we can generate offshore wind at scale, "by the end of this decade" and then shift industrial development "west, northwest and southwest" where the power is. "That then will provide a mechanism where we can retain the jobs, retain those companies here, and more important than that, be a low-carbon location where they want to come," he said on RTÉ One's Monday Night Live in November.
"We do need to balance it. We have to locate it where the grid can manage it," he said. "No one can say, "we don't play our part". [Data centres] have to go in a zero-carbon direction just like everyone else. That will take time. We can't see the numbers [of data centres] coming in that we've seen in recent years. We do have to stop and make sure we get the grid right, get the renewable power delivered."
The ambitions for Europe are big. The European Green Deal, approved in 2020, aims to make Europe the first climate-neutral continent by 2050. Executive vice-president of the EC, Margrethe Vestager has said "we cannot let our electricity consumption go unchecked". At the same time, the European Union is going full steam ahead towards a Europe "fit for the digital age". "The global data volume will keep growing rapidly," Commissioner for Internal Market, Thierry Breton said. "That's why we are fostering suitable infrastructures for eco-friendly efficient cloud services and energy efficient data centres. Europe will be the epicentre of green technology."
EC president Ursula von der Leyen has called the deal Europe's "man on the moon moment". The EC's policy on green cloud-computing and data centres states that energy-efficient cloud computing has become a priority for the EU and identifies the growth in digitisation and emerging technologies as potentially leading to a "problematic increase of greenhouse gas emissions if no proper action is taken." The aim with the European Digital Strategy is achieving climate-neutral, highly energy-efficient and sustainable data centres by no later than 2030.
Data centres need to become more energy efficient, reuse waste energy such as heat, and use more renewable energy sources, with a view to becoming carbon-neutral by 2030, the EC policy states. The Commission aims to rely a mix of existing instruments, reviews of existing legislation and new initiatives to achieve that goal, including the Ecodesign Regulation on servers and data storage products, the EU Code of Conduct on Data Centre Energy Efficiency and the EU Green Public Procurement criteria for data centres, server rooms and cloud services.
There are other relevant policies and funding initiatives that data centres fall under, including the Energy Efficiency Directive and the Taxonomy Regulation, a framework and classification system for when something can be qualified as sustainable. Lanza adds the Commission's amendment to energy statistics regulations, adopted in February 2022, which includes new data reporting requirements for data centres. Some countries have already published country-level data centre energy consumption estimates in recent years, including Ireland and the Netherlands.
Lanza highlights the Ecodesign Regulation on servers and data storage products, which is a set of technical rules on energy efficiency, such as minimum efficiency of the power supply units and minimum server efficiency in active state, maximum consumption in idle state and information on the product operating temperature.
This is good, but on the flip side, regulations, policies and standards come with difficulties. "The challenges in developing policies for data centres include the international market for cloud services, which means that there is global competition: potential for 'leakage' if regulation in one jurisdiction is considered too restrictive," he explains. "Another risk is in high requirements for resilience of the system that could be in contrast with improved energy performance / reduced environmental impact. Also, voluntary labels and certifications can be helpful, but are likely to only be adopted by market leaders," he says.
In January 2021, European data centre operators and industry associations launched the Climate Neutral Data Centre Pact, with signatories pledging to make data centres climate-neutral by 2030. The self-regulatory initiative commits the signatories to a number of goals across energy efficiency, clean energy, water use, reuse, repair and recycling of equipment, as well recycling of waste heat. Host in Ireland is one of the signatories.
"Stockholm has some interesting projects, with data centres supplying around 10% of total heating demand," says Doug Specht , Chartered Geographer and Senior Lecturer in the School of Media and Communication, University of Westminster. His research focuses on data ethics, particularly in relation to humanitarianism and climate change. "First, this is a good capture of otherwise wasted energy and having data centres near urban centres actually makes a lot of sense for lots of reasons – putting everything in Iceland or other cold climates is not a direct solution. Secondly, if this is run on renewables to begin with, then you are really reaping benefits across the board."
One project that is working to capture waste heat from a data centre for circulation in local areas is the Tallaght District Heating Scheme. Most of the low-carbon heat will come from an Amazon data centre close to the centre of Tallaght and it will provide heat for the council headquarters at County Hall, the local library and to TU Dublin's Tallaght campus.
"Data centres are keen to ensure they are as efficient as possible, both in their processing of data and in their cooling systems. This is as much about reducing costs and improving speeds of performance as it is about reducing energy consumption," Specht says. "Either way, as more people connect to the internet globally, and the more data that is stored and processed digitally, the more the demand will increase. Those who are trying to be more sustainable position themselves near to renewable energies – this is good, provided there is enough renewable energy," he adds.
Which highlights an important question as we scale up our renewable technologies. Should data centres be gobbling all the green energy up? In Ireland, the Climate Action Plan has set out an ambitious goal of up to 80% of electricity being generated from renewables and a 51% reduction in overall greenhouse gas emissions by 2030, with net-zero emissions no later than 2050.
"Ultimately the only policy that is going to be effective is moving to sufficient infrastructures to power these data centres, as well as the wider ICT infrastructure and other things, through renewable sources," says Specht. "It's no good only powering the data centres this way, that allows companies to 'greenwash' themselves while gobbling up all the renewable energy at the expense of other sectors. Places like the UK looking to fracking to solve energy security is a completely backwards step. The Swedish model using heat pump technology — again the UKs objection to this technology is another step back."
It's a "pie in the sky" hope, but reducing demand for data by regulating online advertising would have a "huge" impact, says Specht — plus less advertising would also reduce the consumption of goods, which in turn would benefit us in terms of resource depletion and climate change. But in the meantime, he says, the goal is energy powered by renewables and a focus on reusing as much of the heat generated by data centres as possible.
The days of incremental changes aren't good enough anymore, we need radical changes, says Dr Paul Deane, research fellow at the MaREI Centre for Marine and Renewable Energy and the Environmental Research Institute at UCC. "For data centres to remain relevant in the current policy landscape in Ireland, incremental changes aren't enough. This idea of green power, every hour or 24/7, is the way to go. Because again it demonstrates a commitment to their net zero targets, but it also demonstrates an understanding of how to reduce their impact on the grid and how to reduce their impact on the environment."
The push for data centres in Ireland isn't compatible with our with our climate goals at the moment, says Deane. "The idea to grow energy demand use and reduce our emissions is just a circle that can't be squared in the short term. In the long term, over a decade or two, with enough renewables, with enough offshore wind, that's fair enough. But time is not on our side in Ireland and this is the big challenge around our climate ambitions. We have to reduce our emissions every single year from here to 2030, at a rate that we have never seen before and that means we have to do things that we haven't done before."