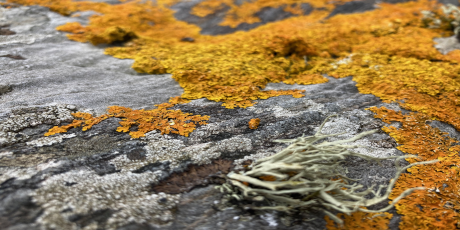 UCC CREATIVE & UCC Environmental Research Institute
DANCE ARTIST / PLANT SCIENCE RESIDENCIES
Glenkeen Gardens, West Cork
2022-23
In collaboration with the Crespo Foundation & Dance Cork Firkin Crane.
UCC Creative is an initiative to develop and advocate for creative practice at UCC in lively collaboration with local, national and international communities, festivals and creative / cultural industries. UCC Creative Events include public art commissions, workshops, showcases and residencies.
For 2022 / 2023 UCC Creative has partnered with the Environmental Research Institute, the Crespo Foundation (Frankfurt am Main, Germany) and Dance Cork Firkin Crane to develop two pilot residencies for Irish / Irish-based dance artists in collaboration with plant scientists from UCC in response to Glenkeen Garden in West Cork.
The Crespo Foundation is a charitable foundation that supports artists and arts institutions and carries our operational projects in the fields of art, education and social affairs.
Dance Cork Firkin Crane specialises in supporting dance artists, presenting dance performances and encouraging people in Cork to engage with dance of all kinds.
Applications are invited from Irish / Irish based dance artists interested in collaborating with plant scientists during a residency at Glenkeen Gardens.
Orientation Workshop / Scientist Introductions UCC (Fri 9th Dec)
2 – 3 week residency at Glenkeen Gardens Jan / Feb 2023 with the possibility of one of these weeks during summer 2023.
Presentation of work in progress Sept 2023 at UCC in collaboration with Dance Cork Firkin Crane with the possibility of presenting at Uillinn West Cork Arts Centre, Skibbereen.
Successful Dance Artists receive a fee of €3000 each.
Further Information:
The stunning cultivated and wild gardens at Glenkeen in West Cork (owned by the Crespo Foundation) provide the botanical context / coastal environment for these pilot residencies bringing together the embodied intelligence of dance artists with the research of plant scientists at UCC. A joint initiative of UCC Creative and the Environmental Research Institute in collaboration with the Crespo Foundation and Dance Cork Firkin Crane, this is a distinctive opportunity to develop R&D for an art-science partnership.
These residencies place the intelligence of dance artists as creative researchers, somatic adventurers and performers into a lively collaborative partnership with plant scientists to develop projects in the context of a coastal garden. This is a pilot project, and residencies will focus on developing the collaborative partnership through initial research and development.
Accommodation for dance artists and plant scientists in Glenkeen Garden are in two guest houses and comprise a private ensuite bedroom and shared living room and kitchen. There is no dance studio on site; practice will have to take place in the gardens and the guest houses. Glenkeen Garden isn't accessible by public transportation. The nearest, very basic, supermarket is 30 minutes by bike. Bikes are available on site. Unfortunately, the paths in the garden and the houses are not wheelchair accessible. We will be happy to answer any questions you have about accessibility.
For further information please contact Professor Jools Gilson - jgilson@ucc.ie
Breakdown of Dance Artist Fees of €3000
Dance Artist Fees - €150 / day for 15 days €2250
Per Diems - €30 / day for 15 days €450
Travel Costs €200
Accommodation (in kind at Glenkeen) €0
TOTAL: €3000
To Apply:
Please send the following to theatre@ucc.ie:
Covering Letter; introduce yourself and explain why you would like to collaborate with a plant scientist from UCC whilst in residence in the gardens at Glenkeen.
2 page CV
Links to video examples of your work (2 maximum)
200 word project proposal.
Successful candidates will have the opportunity to meet a range of plant scientists at UCC (Fri 9th Dec) before confirming a collaborative partner. More info about Plant Science at UCC here.
Deadline for Applications: 9th Nov 2022