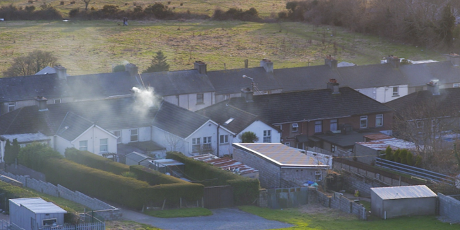 Air pollution is responsible for over 1,500 premature deaths in Ireland every year, and recent results from an air quality monitoring carried out by the Centre for Research into Atmospheric Chemistry (CRAC) research group in the ERI, showed that parts of Cork City have elevated particulate pollution levels due to smoke from chimneys as we heat our homes and idling cars as we sit in that Christmas shopping traffic. For those who suffer from asthma, and other chronic breathing difficulties, being out and about in Cork City in the winter months could prove very harmful.
By deploying PurpleAir sensors which were installed across Cork city as a pilot scheme, in conjunction with Cork City Council, CRAC researchers were able to record pollution hotspots, such as in the vicinity of CIT which showed a PM2.5 Air Quality Index of 155.
Head of CRAC, Professor John Wenger explains the finding to the Echo, "The sensors measure particulate matter, or PM. These are tiny particles which we can't see. They scatter light and give a smokey atmosphere at night. The smaller the PM, the further it can travel into our organ systems. So, for example, PM2.5 can be breathed into our lungs and go deep into our respiratory system. Some smaller particles can even enter our bloodstream."
A reading of 155 is high enough for people to potentially experience health effects if they are exposed to this air for 24 hours.
These concerning findings have prompted Professor Wenger and CRAC colleague Professor John Sodeau to renew their calls for expansion and enhancement of the monitoring of air quality in Cork. Professor John Sodeau, founding Director of CRAC has said, "Our own health and well-being depends upon the health of the atmosphere. Unless we monitor air pollutants accurately and in real-time we simply cannot diagnose the extent to which life-changing effects like heart failure, stroke and cancer will occur. This is as true for Cork as it is for the rest of the world."
The team have also called for a warning system to be developed to predict when toxic air breached safe limits so the elderly and people with health conditions can stay indoors, and are welcoming the Governments proposed ban on smoky fuels.
You can hear more from Professor John Sodeau's recent conversation with RTE's Sean O'Rourke on this topic here (timestamp 1:13:00) and you can read more about the findings in some of the extensive recent media coverage in the Examiner here and the Irish Times here.