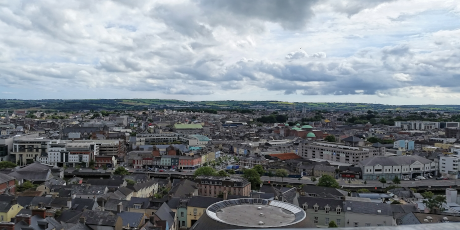 Cork City's air quality has received much attention in recent winter months, with the Centre for Research into Atmospheric Chemistry (ERI and UCC School of Chemistry), frequently highlighting the levels of pollution from the burning of solid fuels which has prompted Minister for the Environment Eamon Ryan announced the measure on the further regulation of solid fuel use for domestic home heating as part of a public consultation.
CRAC have drawn particular attention to the prevalence of particulate matter such as PM 2.5 (PM stands for particulate matter, which is the combination of solid and liquid particles suspended in the air, such as dust, pollen, soot, smoke, and liquid droplets and 2.5 refers to the size of the particles – in this case 2.5microns) which is produced not just from fireplaces but is also found in car exhaust fumes.
After many months of collaborative effort to install Ireland's first citywide network of low-cost PM2.5 sensors (the PurpleAir network), Cork City Council and CRAC have now launched an air quality dashboard, which displays real-time air quality data at various locations across the city based on hourly average concentrations of PM2.5, allowing vulnerable residents to avoid certain areas of high pollution or to take precautions such as wearing of masks which filter such particulates.
The dashboard shows the corrected particulate matter levels after extensive calibration against reference monitors in the PurpleAir network and a correction factor has been applied to the data displayed, thus the readings are significantly more accurate when compared to the original sensor readings.
You can check the air quality in real time for your area right here on the Cork Air Quality Dashboard.
The launch of the Dashboard comes shortly after Cork Council launched its draft Air Quality Strategy for public consultation, making it the first local authority in the Republic of Ireland to draft such a strategy, and showcasing its dedication to addressing urgent issues at the heart of the combined challenge of climate change and public health.
You can access the consultation portal here and submit your input to the draft Air Quality Strategy.