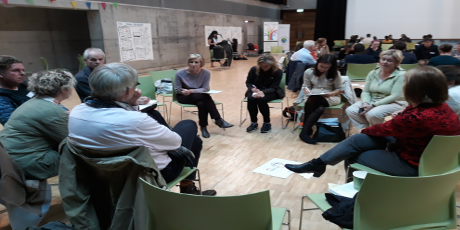 "The world's climate system is an integral part of the complex of life-supporting processes. Climate and weather have always had a powerful impact on human health and well-being. But like other large natural systems, the global climate system is coming under pressure from human activities. Global climate change is, therefore, a newer challenge to ongoing efforts to protect human health."
- Climate Change and Human Health - Risks and Responses, World Health Organisation, 2018
In an era of large scale migration, escalating urbanisation, growing diversity in populations, demographic change and aging populations, global warming, poverty and growing inequality, traditional responses are no longer adequate. The health risks that come with global warming are unevenly distributed and are generally greater for disadvantaged communities. Recognising that working in silos has limited capacity and impact Healthy Cities foster health and well-being through governance, empowerment and participation, creating urban places for equity and community prosperity, and investing in people for a sustainable and healthy planet.
As climate change becomes increasingly recognised as a threat to public health, the ERI - in conjunction with Cork Healthy Cities, the Environmental Protection Agency, SHEP Earth Aware and EcCoWeLL Cork hosted a 2-day public workshop in Oct to identify key actions to mitigate the impact of our changing climate on our health and wellbeing.
'Cork a Healthy City in a Changing Climate?' focused on the context and science of climate change with a specific emphasis on action at local level. These actions will be embedded in the implementation of the Cork City Climate Adaptation Policy and the Cork Healthy Cities Action Plan 2020 – 2030.
Held in the Cork University Building School, Lapps Quay, the first day's event was launched by Deputy Lord Mayor and Green Party Councillor Oliver Moran. The event aimed to present the science and stimulate discussion on the key public health considerations of climate mitigation and adaption. Prof Ivan Perry of the UCC School of Epidemiology set the scene for the subsequent presentations and discussions by highlighting the global significance of climate change as a threat to public health. Dr Ina Kelly, Specialist in Public Health Medicine, HSE then gave the national context and Mr Kevin Burke, Principal Transport Planner, Jacobs Engineering showcased examples of other cities in Europe who were successfully building a 'Liveable Healthy City'. There followed a panel discussion and audience Q&A which provided the opportunity for the public to engage in a discussion on the public health impact of climate change, to identify key actions points for consideration for public health in Cork City in the context of a changing climate and to pose key questions for the second day – the EcCoWeLL Event on October 1st in Millennium Hall.
The second day's event provided a platform for multiple stakeholders to develop an understanding and a capacity to respond to the key challenges for public health in the context of a changing climate in Cork City. The overall objectives were to stimulate broad discussion on the key public health challenges for Cork City in a changing climate, to explore and discuss the opportunities for action to promote health in Cork City in the context of a changing climate, to identify key inter-agency action areas for the implementation of the Cork City Adaptation Strategy and Cork Healthy Cities Action Plan 2020 – 2030.
Participants included members of the Cork City Council, HSE and members of the public and use the EcCoWeLL 'Open Space' metholdogy. 'Open Space' is a powerful tool for engaging large groups of people in discussions to explore particular questions or issues. 'Open Space' has been used successfully in thousands of places over the last 20 years, it's an open source idea and has been equally effectively by NASA & the UN as it has by community groups. Using the 'Open Space' methodology we will provide a platform for integrating strategies of a Healthy City, a Green City, a Learning City and economic development to promote quality of life and wellbeing.
The approach provided an opportunity to hear briefly from key experts with presentations from ERI researchers across multiple disciplines including Dr Christie Godsmark, Prof Ivan Perry and Dr Janas Harrington (all from the School of Public Health), Dr Jean O'Dwyer (School of BEES), Prof John Sodeau and Dr Dean Venables (CRAC, School of Chemistry), as well as Fergal Reidy of Cork City Council, Kieran Lettice of Energy Cork, Finola McCarthy of LTI Horticulture Blackrock, Dr Margaret Desmond of the EPA and Dr. Ina Kelly, HSE.
Topics discussed by each group included Air Quality, Water Quality Biodiversity and Green Spaces, Energy, Extreme Weather Events and Disease Risk , Health as a Catalyst for Climate Action, food sustainability, mental health and active transport. Key actions were identified by group discussion amongst members of the public, policy makers and research experts, collated and will be fed into the Cork Healthy Cities Action Plan, the Cork City Council Climate Action Plan and various local community development committees where they will contribute to the formation of new policy decisions.