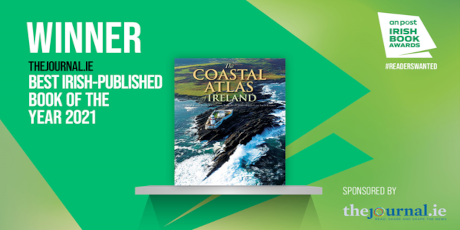 TheJournal.ie Best Irish-published award was set up to reward the excellence of native publishing and submitted titles must emanate from an Irish-based publishing house, with the public asked to vote on a shortlist of titles.
Published by Cork University Press, organised into six sections, comprising a total of 33 chapters, with 950 pages The Coastal Atlas of Ireland is a comprehensive and authoritative tribute to Ireland's spectacular coast. With contributions from over one hundred scholars and experts in a range of diverse fields, from geography to biology to archaeology, geology, and history, the Atlas is the only single publication to explore the coast of Ireland as a whole, from both the physical and social perspectives.
Edited by ERI Academics Robert Devoy and Val Cummins with colleagues Barry Brunt, Darius Bartlett & Sarah Kandrot, the atlas presents views of the island's coastal future: where will the coast and its people be in 2200, or even next year, and what will its different landscapes look like. It features hundreds of original maps and beautiful illustrations, carefully selected to bring the text to life. The Atlas examines the importance of the coastal zone to Ireland across a range of themes, including tourism and recreation, fishing, aquaculture, energy, ports and linked industries. It explores these themes across both space and time, from the impacts of Quaternary glaciation on the Irish landscape to the future impacts of climate warming on coastal communities and Irish society. Visually stunning, accessible and an academic tour de force, the Atlas will resonate with everybody who has a connection to Ireland and anybody with an interest in coasts.
The Coastal Atlas of Ireland forms the twelfth, and the latest, in the now nationally and internationally acclaimed series of Atlases published by Cork University Press. Previous winners of this Best Irish Published Book of the Year were The Atlas of the Irish Revolution and The Atlas of the Great Irish Famine.
You can order at: www.corkuniversitypress.com