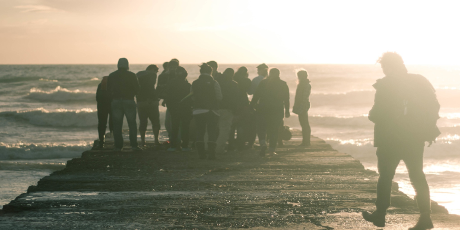 Recently, Ireland has witnessed a significant increase in interest in the role of citizens and communities in the energy transition to a low-carbon future. The role of communities is seen as essential in climate action and yet it is poorly understood. A newly published EPA report from Dr Clare Watson, Evan Boyle, Prof Brian Ó Gallachóir, (Energy Policy and Modelling Group, MaREI and the ERI) and Dr Gerard Mullally (Department of Sociology & Criminology and the ERI) explores how to shift focus away from the individuals acting to address climate change towards the role of collective action and looking at the existing social, institutional and infrastructural barriers to action.
This research project has engaged with community energy groups over a 3-year period and investigated how we might support the development of community capacity to effectively engage in energy transitions.
Key insights emerged for policymakers as a result of this:
Energy citizenship is an accepted ambition, but energy communities are struggling to operate and to upscale their activities.
Infrastructural support is emerging but needs more coherence and should respond more effectively to community needs.
There is significant untapped potential within intermediary groups that are not directly associated with the energy transition.
We expect a lot from volunteers. They need to be supported and adequately resourced.
National leadership is key to giving community energy legitimacy and to helping with public engagement.
Until there is clarity about addressing the policy barriers related to planning, grid access and finance, it is unhelpful to "talk up" the community ownership of energy.
Community energy does not guarantee community acceptability or acceptance, but it can contribute to delivery.
Working with and for a community encourages active citizen participation, which contributes to citizen empowerment, the development of societal capital and social cohesion. This project develops a framework focussing on:
Cultural capacity
Organisational capacity
Institutional capacity
Individual capacity
Technical/practical capacity.
The framework is used to discuss the results from engaging with energy communities and to draw out capacity challenges.
The solutions focus on building the required capacity supports including:
Mentoring in community development as an essential complement to technical and financial mentoring
Reliable, multi-annual sources of core funding for community energy groups
Funding and governance of community energy which allows for exploration, experimentation and cross-fertilisation.
Practical support should be provided for intermediary organisations, such as Tidy Towns, which already have community support and trust.
People with direct community development training and experience should be integrated into SEAI's community energy programmes.
Approaches to support community energy should be developed that respond to the varied capacities of different communities.
Read the full report here: http://www.epa.ie/pubs/reports/research/climate/research337.html