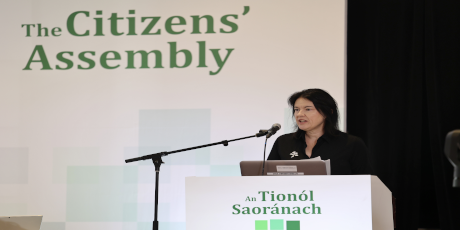 On 16 October 2022, Professor Áine Ryall, Centre for Law & the Environment, delivered an invited contribution to the Citizens' Assembly on Biodiversity Loss.
Her presentation considered Environmental Rights and Rights of Nature. It included an analysis of the right to a healthy environment, the role of the procedural environmental rights guaranteed under the Aarhus Convention and the implications of the decision of the Supreme Court in 'Climate Case Ireland' (Friends of the Irish Environment v Government of Ireland [2020] IESC 49) for environmental constitutionalism.
The presentation is available to view on the Citizens' Assembly website here.
The Citizens' Assembly on Biodiversity Loss is tasked with examining how the State can improve its response to the issue of biodiversity loss and to bring forward proposals in that regard. It comprises 100 members, including an independent Chair, Dr Aoibhinn Ní Shúilleabháin, and 99 randomly-selected members of the public.