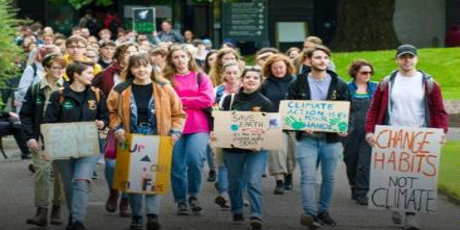 This event, which is open to the public, takes place on Thursday, 10 October 2019 in Boole 1 Lecture Theatre on the main UCC campus from 6.30-8.30pm.
No advance registration or booking is required for this event.
The event focuses on climate law and governance, with an emphasis on engagement, advocacy and activism to promote climate action.
Áine Ryall Co-Director, Centre for Law and the Environment UCC will speak about recent developments in climate law, including climate litigation as a mechanism to force urgent climate action.
Youth activist Alicia Joy O'Sullivan, from Skibbereen, will speak about her recent experience representing Ireland at the UN Youth Climate Action Summit in New York.
Margaret Desmond Climate Services, Environmental Protection Agency, will focus on the role of the National Dialogue on Climate Action in leading on climate change activities at the national and local level.
Maria Kirrane Sustainability Officer, UCC will discuss the role of educational institutions in leading climate action and specific activities at UCC.