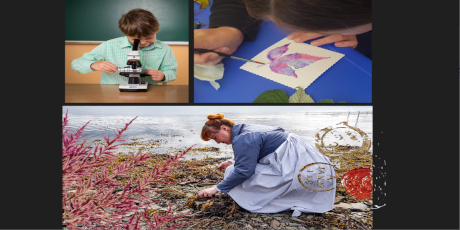 Join us for an Open House at the UCC Environmental Research Institute's Ellen Hutchins Building
What: An interactive family event exploring nature, science, art and history
Where: The UCC ERI Ellen Hutchins Building, Lee Rd, Sunday's Well, Cork, T23 XE10
15min walk from main UCC Campus, with plenty of bike and car parking spaces!
When: 5pm-7pm on Culture Night, Friday 22nd Sept 2023
Booking: This is a free event with no advance booking required
Who is this event for: Families with children aged 6 to 12 years
Creative adventures with nature
Adventures with leaves, wax, paint and lenses - Explore a variety of leaves thorough art and science, with leaf rubbing, printing and painting. Explore the shape, colour, texture and details of leaves and the properties of paint, wax and water. UCC Plant Scientists will also show you how to use microscopes to see details invisible to the human eye.
Learn how to make a seaweed specimen for either botanical studies or as an artwork. Aquatic biologist Frances Gallagher will demonstrate how to float a seaweed specimen onto paper in a method used by botanists both now and two hundred years ago.
Explore historical letter writing and view botanical artefacts. Find out how scientists communicated with each two hundred years ago as historical re-enactor, Carrie O'Flynn, dressed as Ellen Hutchins might have been, shows you how to fold a letter and seal it with wax. In the Ellen Hutchins Reading Room, see original seaweed specimens that she made (on temporary loan from the Herbarium of Trinity College Dublin) and one of Ellen's original seaweed drawings (from the Hutchins Family Collection).
Discover the story of Ellen Hutchins, Ireland's first female botanist, after whom the UCC Environmental Research Institute building is named and see the clothes, equipment and books that she would have had available to her.
Pick up a copy of the Ellen Hutchins Festival's free Twelve Tree Trail to explore native trees another day.
This event is a joint venture between UCC Environmental Research Institute and the Ellen Hutchins Festival.
The Study of Chocolate
Dr James Richardson of the School of BEES and the ERI will present his research into the biology and genetic diversity of the chocolate tree, Theobroma cacao, and its relatives. The work shows how the relatives of cacao might be used to tackle challenges to the chocolate industry that includes threats to the trees from disease and climate change. Rose Daly, from The Chocolate Shop in the English Market, will display samples taken from plantations from around the world.
The Magic of Plants
Join UCC Professor of Plant Biology, Astrid Wingler, in exploring the structure and composition of plants, learn about the nutrients they contain and find out what makes plants so colourful! Prof Wingler will show you how to prepare samples of plant leaves (and even potatoes!), stain them using materials which you might have at home! And then view your results under the microscope.