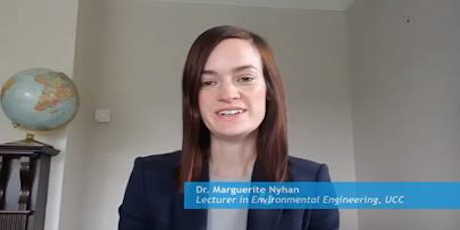 Earth Day 2020 marks 50 years since the first Earth Day was celebrated by the USA, the occasion is now observed in 192 countries, and coordinated by the non-profit Earth Day Network. This year, Future Earth Ireland asked a range of experts from across Ireland to join them in reflecting on the progress that has been made over the past 50 years and the prospects for the next 50 years. ERI and MaREI researcher, Dr. Marguerite Nyhan (Lecturer in Environmental Engineering, University College Cork & Visiting Scientist, Harvard University) reflected on "sustainable and healthy future cities" in the video clip below:
The complete Earth Day 2020 video series can viewed on the Future Earth Ireland Twitter page.
Future Earth Ireland is the national committee that inputs into the FutureEarth programme for global sustainability. Hosted & supported by Royal Irish Academy. For more information on the activities of Future Earth Ireland, please see their website. To read more about Dr Nyhan's work, you can visit her website.