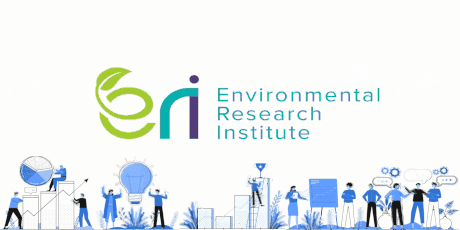 2020 was a year that challenged the research community, as pandemic conditions hindered much laboratory and field work, prevented travel to meet with collaborators and participate in conferences, and a significant portion of national and European funding was diverted towards COVID-19 related research.
However, despite these limitations and restrictions, UCC's Environmental Research Institute received a total of €20m in funding, due to the tireless efforts of researchers preparing and submitting research grants to national, EU and international funding agencies. Last week, the ERI acknowledged the hard work of its research community with a series of presentations from successfully funded recipients, highlighting the scope of the research that will be carried out over the next 2-4 years as a result of this funding.
Introducing the presentations, the ERI's Funding Coordinator Dr Sonia Monteiro framed the event as a moment to recognise the time, effort and success of researchers from many different disciplines. Dr Monteiro provided unwavering support to each researcher throughout the past year, guiding many through the COVID-19 research calls to ensure that ERI research capabilities rose to meet this new and urgent challenge.
Professor John Cryan, the new UCC Vice President for Research and Innovation, welcomed the funding – noting that this comprises a significant portion of UCC's total annual grant income. Professor Cryan went on to emphasise that he was incredibly impressed by the breadth of research being conducted at the Institute, and called this event a fantastic first opportunity for him to get a real flavour of what is being accomplished.
ERI Director Professor Sarah Culloty, who is also Head of the College of SEFS, gave the opening address, saying "I would like to congratulate you all on the phenomenal job which is you are doing on behalf of the Institute and MaREI. This afternoon is a real pleasure – it is incredible the breadth of activity within the institute, the multidisciplinary, the collegiality and the diverse sources of funding made available to all the PIs. The impact of the research externally was very visible even from today's presentations and I am looking forward to the future outputs of these projects. The success is in no small part to the roles you all play individually and collectively."
Prof Culloty highlighted specific awards such the newly funded 'Sustainable Futures' project led in UCC by Dr Marguerite Nyhan (MaREI, ERI, School of Engineering) in collaboration with Maynooth University and Sligo Institute of Technology, which was awarded €3.9M under the Department of Higher Education, Research, Innovation and Science's Human Capital Initiative. "This investment in a Sustainable Futures industry-university collaboration will enable us to leverage our transdisciplinary research expertise in support of Irish companies, by delivering practical, research-based training and providing a dedicated, collaborative working space in our Environmental Research Institute's Lee Road Building and the UCC School of the Engineering," said Professor Culloty.
Prof Culloty also highlighted the TRANSLATE and RADICAL projects which are both coordinated by Professor Justin Holmes (School of Chemistry, ERI) and collaborators Prof John Wenger and Dr Stig Hellebust in the Centre for Research into Atmospheric Chemistry (CRAC), and project managed by UCC Academy, noting that "With this incredible award Professor Holmes becomes the first researcher in Ireland to successfully coordinate two FET-Open proposals in H2020."
Prof Culloty also congratulated Professor Maria McNamara (School of BEES, ERI) who was the recipient of over €2m in prestigious European Research Council funding.
Amongst the other projects recognised at this event were:
The EPA-funded Source Apportionment of Air Pollution in the Dublin Port Area led by Professor John Wenger and Dr Stig Hellebust from the Centre for Research into Atmospheric Chemistry (CRAC)
ACTRIS IMP and ATMO ACCESS, EC funded projects for Research Infrastructures in Atmospheric Science also led by Professor John Wenger and Dr Stig Hellebust of CRAC (School of Chemistry)
LIVE – the Llŷn- Iverage Ecomuseum Project led by Prof Pat Meere and Dr Fidelma Butler (School of BEES/ERI)
REALISE: Demonstrating a Refinery-Adapted Cluster-Integrated Strategy to Enable FullChain CCUS Implementation and EnergyMeasures: Tailored measures supporting energy vulnerable households led by Dr Niall Dunphy (CPPU/ERI)
X-ROTOR: X-shaped Radical Offshore wind Turbine for Overall cost of energy Reduction – led by Dr Niall Dunphy (CPPU/ERI), Dr Jimmy Murphy (MaREI/ERI)
Climate change in the Republic of Ireland: Societal health Impacts and Solutions(CRISIS) – led by Dr Jean O'Dwyer (BEES/ERI), Dr. Marguerite Nyhan (MaREI/ERI/School of Engineering), Dr. Stig Hellebust (CRAC)
Increased understanding of the role of N fertiliser in grass-white clover milk production system – led by Dr Deirdre Hennessy (Teagasc) and Dr Rossana Henriques (BEES/ERI)
Fungal mOnitoring NeTwork ANd Algorithm (FONTANA) - Stig Hellebust (CRAC)
Climate Change Impacts and Adaptation: Recent Funding Success - Barry O'Dwyer, (MaREI/ERI)
Novel Mapping of the Shallow Water INFOMAR Data Set: Towards Ireland's First Shallow Water Atlas NoMans_TIF (Marine Institute PDRA) - led by Prof Andy Wheeler (BEES,ERI)
DENiM: Digital intelligence for collaborative ENergy management in Manufacturing – led by Dr Ken Bruton (MaREI/ERI)
The Pest Man Project led by Dr Paraic Ryan (Civil Engineering/ERI)
SATURN project led by Prof Gerry Sutton (MaREI/ERI)
SAFEWAVE STREAMLINING THE ASSESSMENT OF ENVIRONMENTAL EFFECTS OF WAVE ENERGY – led by Dr Anne Marie O'Hagan, Prof Gregorio Iglesias (MaREI/ERI) and Dr Niall Dunphy (ERI, CPPU)
EFACE - Electrofuels in a Circular Economy led by David Wall and Prof Jerry Murphy (MaREI/ERI/School of Engineering)
Predicting harmful jellyfish blooms in Bantry Bay (JELLY4CAST) led by Dr Tom Doyle (BEES/ERI) and Dr Damien Haberlin (MaREI/ERI)
Modelling Ireland's path to a net-zero energy system: Informing carbon budgets to 2050 led by Dr Hannah Daly (MaREI/ERI/School of Engineering)
Enhancing Integration of Disaster Risk and Climate Change Adaptation into Irish Emergency Planning – led by Dr Dug Cubie (Centre for Law and the Environment/ERI), Dr Martin LeTissier and Dr Peter Medway (MaREI/ERI)
The gut microbiome and behaviour in the great tit – Prof John Quinn (BEES/ERI)
Population-stabilizing portfolio effects of finescale environmental variations in natural resource availability to malaria vector mosquitoes – Prof Gerry Killeen (AXA Research Chair in Applied Pathogen Ecology, BEES/ERI)
Energy Resilience in the Built Environment Centre for Doctoral Training, led by Professor Brian Ó Gallachóir, Dr Dominic O'Sullivan, Professor Ger Mullally, Dr Clodagh Harris, Dr Niall Dunphy and Dr Ken Bruton (MaREI/ERI/School of Engineering/Dept of Government and Politics)
Covid Research projects
Dr Jean O'Dwyer (School of BEES/ERI): tracking COVID 19 clusters based on geo-referenced data to more accurately predict future outbreaks
Dr Stig Hellebust and Prof John Wenger (School of Chemistry/ERI) and Prof Mike Prentice (Dept of Pathology): Airborne surveillance of SARS-CoV2 in healthcare and airport environments
Dr Niall O'Leary (School of Microbiology/ERI): COVID-19 community wide surveillance via wastewater based epidemiology
Dr Stig Hellebust, Dr Mehael Fennelly and Prof John Wenger (School of Chemistry/ERI) and Prof Mike Prentice (Dept of Pathology): Understanding and Preventing Outbreaks of COVID-19 in Meat Processing Plants – Prepared for the Future
Dr Paul Holloway (Department of Geography): Modelling the entwined dynamics of social and physical distancing
For a full list of all of our research projects please visit Our Research Projects database