News and Events
News and Events
UCC led Technology Transfer consortium present its annual Invention of the Year Awards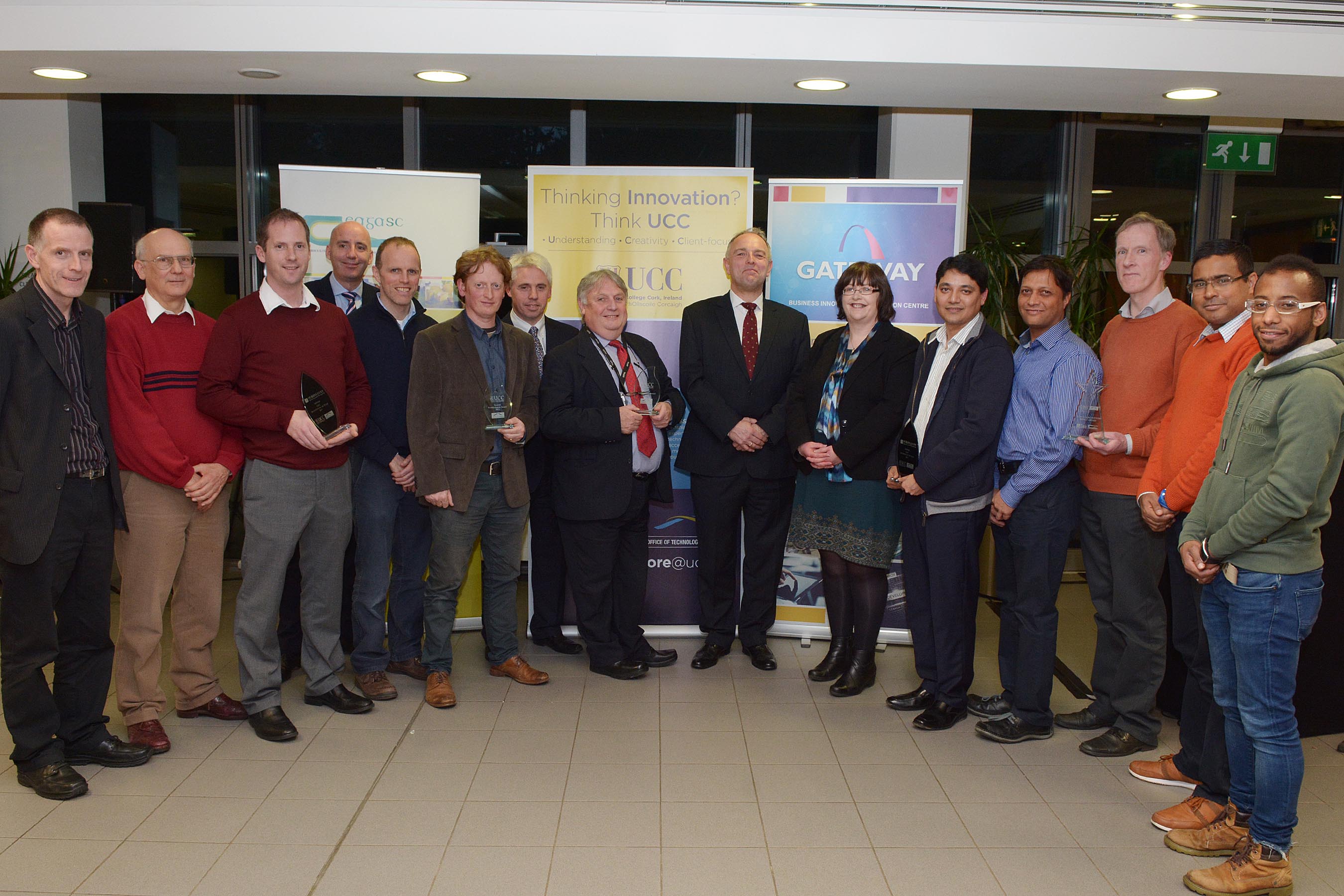 UCC celebrated the current and future successful innovations at its Annual showcase event, the Commercialisation Awards, last week. The 7th Annual PurdyLucey Invention of the Year awards were hosted by UCC in the Western Gateway building. This year for the first time, we were joined by both our technology transfer network partners, Teagasc and Cork Institute of Technology, who also provided awards through this competition to celebrate their respective research communities.
This year the UCC Invention of the Year Awards, selected from 65 inventions disclosed to UCC were won by
Biotech, food and life sciences Jerry Reen, Gerard McGlacken and Professor Fergal O'Gara (Biomerit Research Centre) for their invention of a synthetic fungal biofilm blockers for the medical device coating industry"
ICT/Physical Sciences: Devendraprakash Gautam and Kafil Razeeb Mahmood, (Tyndall National Institute) for a novel method of generating electricity from waste heat
Speaking at the event, the Vice-President for Research and Innovation, Professor Anita Maguire said ""Researchers invest tremendous time and energy in developing their research to enable commercialisation, in line with national research and innovation strategy. This event is an excellent opportunity to acknowledge the leadership and creativity of our researchers in this regard."
Cork Institute of Technology winners were
ICT/Physical Sciences: Shijie Deng & Stephen Hegarty for a new method that allows auto-correction of the light power for fluorescence sensing systems
Biotech, food and life sciences: Roy Sleator, Cormac Gahan (UCC), Eamonn Culligan & Shauna Keane for a novel Lactococcus lactis vaccine and drug delivery system
Teagasc's PurdyLucey Invention of the Year was won by Paul Cotter and Nidhi Gopal for a system of simultaneous detection of food poisoning Bacillus cereus toxin genes.
At the event, the consortium also celebrated the efforts of the research teams behind the establishment of 5 spinout companies last year. Exceedence Ltd, Bards Acoustic Science Labs and Respiro Limited are new spinouts of UCC. UCC now has a portfolio of over 20 commercially active spinout companies.
The research teams behind Teagasc's spinout Dairy Concepts Ireland and CIT Spinout Aventamed Limited were also given awards.
UCC leads a Technology Transfer Consortium with partners CIT and Teagasc, supported by funding provided by Enterprise Ireland and Knowledge Transfer Ireland.