News and Events
News and Events
Inspiring Women Entrepreneurs Event to be Hosted in UCC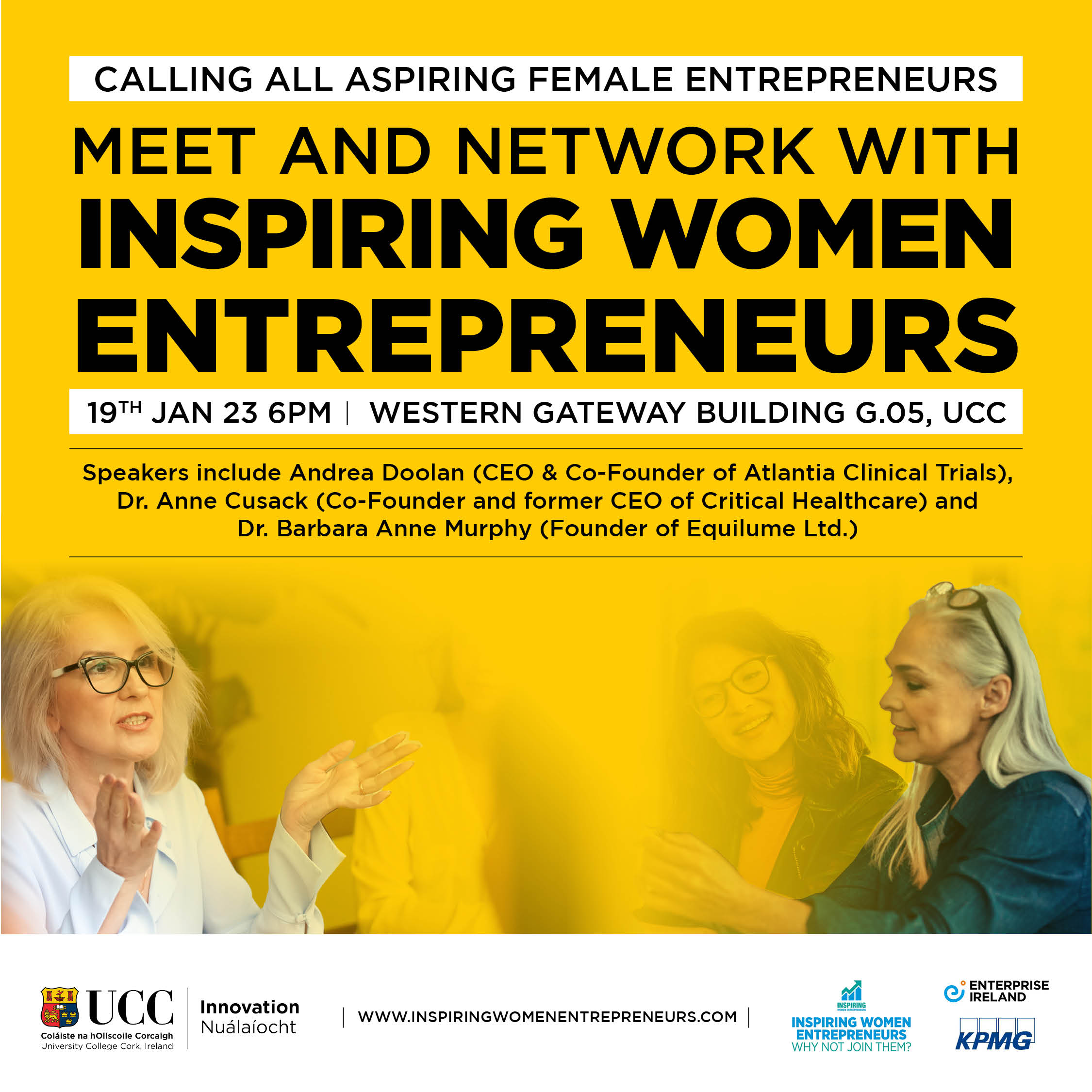 Inspiring women entrepreneurs event to be hosted in UCC
One in five people in Ireland aspires to start a business in the next 3 years
There are approximately 3,400 new business owners every month in Ireland. 59% are men and 41% are women
Ireland has the third-highest rate for early-stage female entrepreneurs across Europe
UCC event aims to inspire to establish innovative, global businesses
UCC Innovation will host an event to inspire potential female entrepreneurs who have not yet taken the first steps towards starting a business.
The 'Inspiring Women Entrepreneurs' event will take place in the Western Gateway Building, University College Cork, on Thursday, 19 January at 6pm. It will focus on tapping into the entrepreneurial potential of female professionals - women in senior corporate positions, as well as those with doctoral and post-doctoral qualifications - who are seeking a change of direction.
The event is created by women for women, and the evening will focus on sharing stories that inspire connection and a journey towards a career in entrepreneurship.
The event will address how the new 'Inspiring Women Entrepreneurs' initiative, supported by Enterprise Ireland and KPMG, will support women who identify themselves as early-stage entrepreneurs and want to follow through on their ambitions to establish businesses that are scalable, innovative and focused on export markets.
Speaking ahead of the event, Dr Sally Cudmore, Director of Innovation at UCC, said: "We need more women in the entrepreneurial ecosystem in Ireland to bring different perspectives and creativity, and boost the overall level of innovation. Women are excellent at seeing problems and finding creative solutions. Through hearing inspirational stories from successful female role models, women are more likely to be inspired to go after their goals and pursue their entrepreneurial dreams."
Paula Fitzsimons, Founder of Fitzsimons Consulting and co-host of the event, said: "The objective of this new and exciting initiative is to increase the number of female-led innovative businesses of scale, focused on export markets. Through the Global Entrepreneurship Monitor (GEM) research, we know that more women in Ireland are aspiring to start new businesses and that the rate of early-stage female entrepreneurs that aspire for significant growth is also increasing. Building on this fertile ground, we want to introduce the possibility of an entrepreneurial career to particular groups of women that may not have considered it previously and where we believe untapped, entrepreneurial potential lies."
"Key to the initiative is the panel of Inspiring Women Entrepreneurs, a group of successful businesswomen selected to mirror by their achievements the entrepreneurial ambition we are seeking to inspire. All are volunteers."
Paula will chair a panel discussion with three successful female entrepreneurs - Andrea Doolan, CEO & co-founder of Atlantia Clinical Trials, Dr Anne Cusack, co-founder and former CEO of Critical Healthcare, and Dr Barbara Ann Murphy, Founder of Equilume Ltd.
Following the discussion, a networking event will take place, providing an opportunity for attendees to connect with one another, to share ideas and to explore the entrepreneurial space in Cork.
This event is being held in partnership with Inspiring Women Entrepreneurs, Enterprise Ireland and KPMG. If you are interested in attending, register at: https://www.eventbrite.ie/e/inspiring-women-entrepreneurs-tickets-475099203507.