News and Events
News and Events
Four trailblazing start-up prospects secure €3.27m Enterprise Ireland funding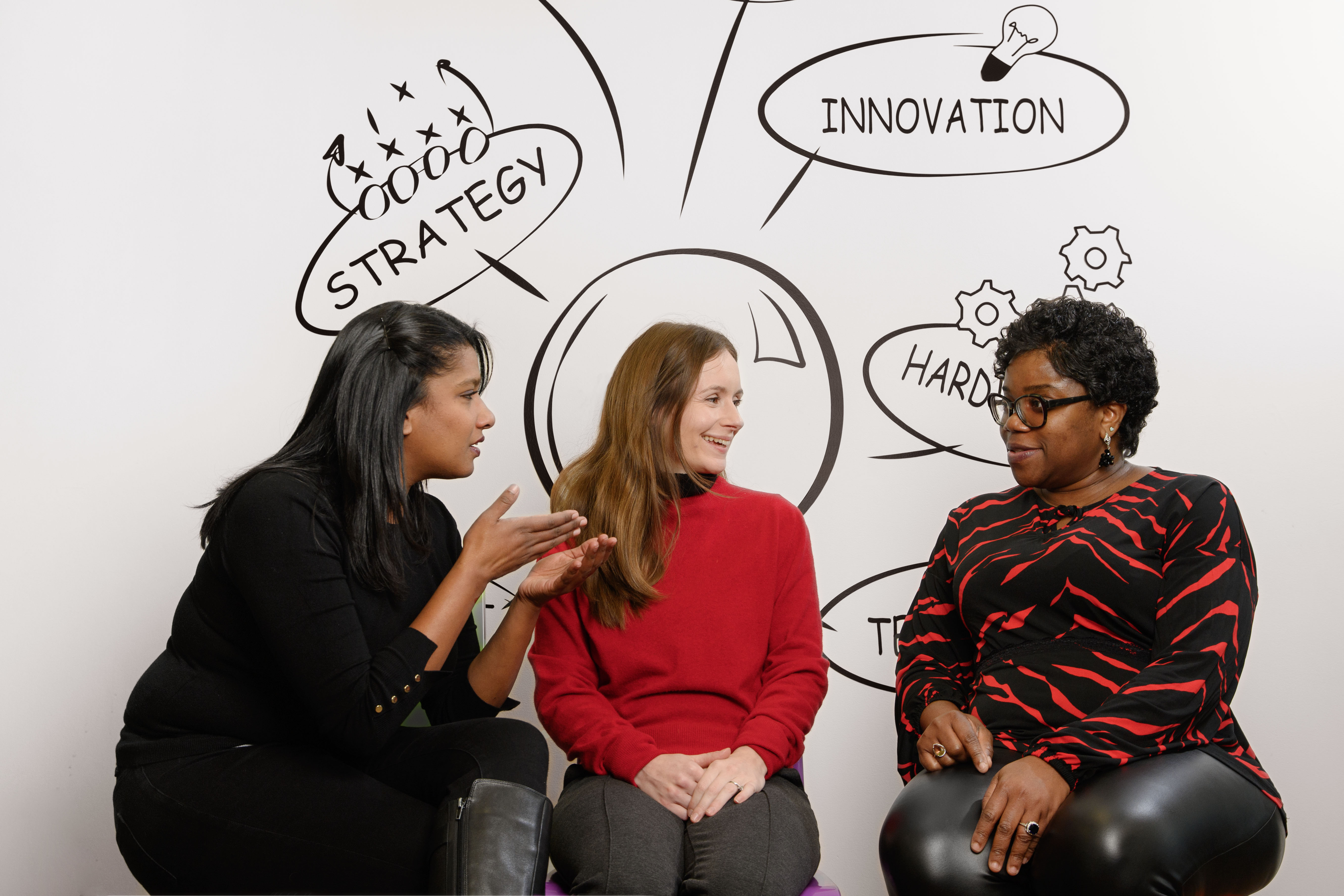 Four women founders awarded €3.27m from Enterprise Ireland.
The MedTech start-up prospects are shaping the future of healthcare.
Women-led start-ups are pushing the bar higher each year according to new report.
Four women founders at University College Cork (UCC) have received funding to translate research into innovative companies that will benefit patients globally. The start-up prospects will drive advances in maternal and neonatal care, breast cancer diagnosis, and palliative care.
Sarusha Pillay (pHetalSafe), Dr Justina Ugwah (CLISTEProbe), Dr Alison O' Shea (Neurobell) and Professor Ciara Heavin (CommPAL) have all received grants totalling €3.27m from Enterprise Ireland's Commercialisation Fund Programme. The investment from Enterprise Ireland will support technology development and accelerate the launch of the four companies from UCC.
The announcement comes as new data reports women-led start-ups are experiencing record levels of funding, more than double the amount raised in 2020.
Dr Sally Cudmore, Director of UCC Innovation, said: "Entrepreneurship has a crucial role to play in Ireland's economic growth. Yet women entrepreneurs often face different gendered challenges, such as unconscious biases, lack of investment funding and lack of women role models or mentors. But things are changing and in Ireland the rate of women entrepreneurs is steadily increasing, with women entrepreneurship levels now above the EU average."
"At UCC, we believe that promoting and supporting women's entrepreneurship will accelerate economic growth and societal benefit for all. We are delighted to celebrate the success of these four women trailblazers, who are developing technology that will make a meaningful impact on patients' lives and who will be role models to budding entrepreneurs."
The funded projects:
Sarusha Pillay - pHetalSafe
€1.35m was awarded to the pHetalSafe team, a collaboration between the Tyndall National Institute and INFANT Research Centre in UCC, together with the Cork University Maternity Hospital.
pHetalSafe is designed to improve fetal monitoring during labour for safer childbirth. It aims to reduce or remove the need for unnecessary Caesarean sections by providing better information on the signs of fetal distress.
Sarusha Pillay will assume the company CEO role while co-founders, Dr Fergus McCarthy and Ray Burke will take up the clinical lead and technical lead roles. Dr Shree Krishnamoorthy, post-doctoral researcher at Tyndall National Institute, is developing the technology behind pHetalSafe, providing the necessary resources to drive the project forward.
Dr Justina Ugwah – CLISTEProbe
CLISTEProbe provides real-time diagnostic data to clinicians to make informed decisions during biopsy sampling by identifying benign and cancerous tissue. By providing an early tissue assessment at time of biopsy, it will ensure women receive immediate diagnostic feedback.
In 2020, 2.3 million women were diagnosed with breast cancer and 685,000 deaths globally. CLISTEProbe was awarded €753K by Enterprise Ireland to continue its technical and commercial development.
Joining Dr Eric Moore and Dr Yineng Wang at the Tyndall National Institute, Dr Justina Ugwah, Commercial Lead, is establishing a spin-out company to commercialise this technology which has the potential to play a major role in the improvement of women's health.
Dr Alison O'Shea - Neurobell
Out of 140 million births globally per year, 1 in 7 are transferred to ICU and 1 in 50 suffer brain injury. Neurobell is developing an AI-powered neonatal brain monitor to detect brain seizures in babies after birth. Neurobell's technology will allow for routine monitoring of babies across all hospital settings without needing specialised expertise.
Led by Dr Alison O'Shea and Dr Mark O'Sullivan, Neurobell was awarded €758K by Enterprise Ireland to complete the Quality Management System for the device and support clinical studies.
Professor Ciara Heavin - CommPAL
CommPAL is an AI solution that supports the efficient and fair allocation of specialist palliative care to the community to get the right care, to the right patient, at the right time.
By 2050, the global over-65s population will double to 1.5 billion and as people live longer, all countries are facing a growing demand for palliative care.
Professor Ciara Heavin was awarded €410k from Enterprise Ireland to build out the CommPAL software platform. The project has partnered with the Marymount Hospice in Cork, which will be one of the first palliative care hospitals to pilot the new technology.
About UCC Innovation
UCC Innovation, part the Office of the Vice President for Research and Innovation, is responsible for creating economic and societal impact from UCC research through the commercialisation of ideas and technologies and knowledge exchange.
UCC has a long legacy of technology transfer with its Industrial Liaison Office being established in 1982, the first such office in Ireland. In 2006 this changed to the Office of Technology Transfer, and in 2019 was rebranded as UCC Innovation, which today provides a greater breadth of supports to the university community and industry.
The team in UCC Innovation maximises the impact from UCC research through licensing technologies, and by providing UCC expertise through consultancy. It also nurtures the establishment of new ventures through its accelerator programmes and incubation facilities. GatewayUCC supports the development of researcher led high-tech and knowledge-intensive spin-out companies, that have created more than 450 jobs since 2012. UCC supported spin-out companies have raised over €50 million of public and private investment and contribute around €25 million a year in salaries to the local economy. IGNITE, a 12-month start-up incubation programme for recent graduates, has supported 166 founders working on 138 start-up ideas in the last 10 years. These founders are actively involved in 83 businesses today that have created 315 jobs. They have raised €18M in funding and are estimated to have contributed €40M in salaries to date.
About Tyndall National Institute
Tyndall is a leading European deep-tech research centre in integrated ICT (Information and Communications Technology) materials, devices, circuits and systems and a research flagship of University College Cork. Tyndall is Ireland's largest Research and Technology Organisation (RTO) specialising in both electronics and photonics. Tyndall works with industry and academia to transform research into products in its core market areas of electronics, communications, energy, health, agri-food and the environment. With a network of over 200 industry partners and customers worldwide, Tyndall is focused on delivering human and economic impact from excellence in research. Tyndall is home to a multidisciplinary research community of over 600 people of 52 nationalities, including over 150 postgraduates.