‌The new Leaving Certificate grading system was implemented in 2017. The grade system, and how it corresponds with the scheme up to 2016 is outlined below. The minimum entry requirements are two H5 and four O6/H7 grades. The revised common points scale now applies for those presenting the Leaving Certificate:
HIGHER
ORDINARY
GRADE
POINTS
GRADE
POINTS
H1
100
H2
88
H3
77
H4
66
H5
56
O1
56
H6
46
O2
46
H7
37
O3
37
H8
0
O4
28
O5
20
O6
12
O7
0
O8
0
Bonus points for Maths
25 additional points will be awarded for higher level Mathematics at grades H6 and above.
Leaving Certificate Vocational Programme (LCVP) Link Modules
UCC awards the following points to the Leaving Certificate Vocational Programme Link Modules:
| | |
| --- | --- |
| Distinction | 66 points |
| Merit | 46 points |
| Pass | 28 points |
While Link Modules are counted for point scoring purposes they may not be counted as one of the six subjects to satisfy minimum entry requirements.
Scoring for pre-2017 Leaving Certificate applicants
All students applying through the CAO from 2017 will be awarded points under the new scale, no matter when they sat the Leaving Certificate.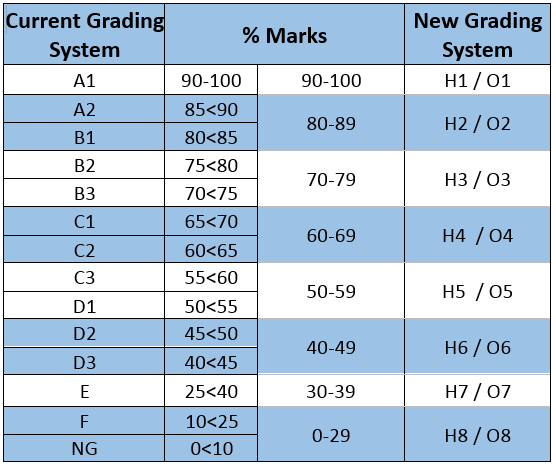 The pre-2017 E grade band covers from 25-39% and does not map directly to the H7 grade, which covers the range 30-39%. Therefore, the points awarded from a pre-2017 higher level E grade will be less than for a H7 and have been calculated mathematically on the non-linear scale at 33 points.