News and Events
News and Events
Entre Mundos – Exhibición fotográfica – Abierta la convocatoria hasta el 9 de Agosto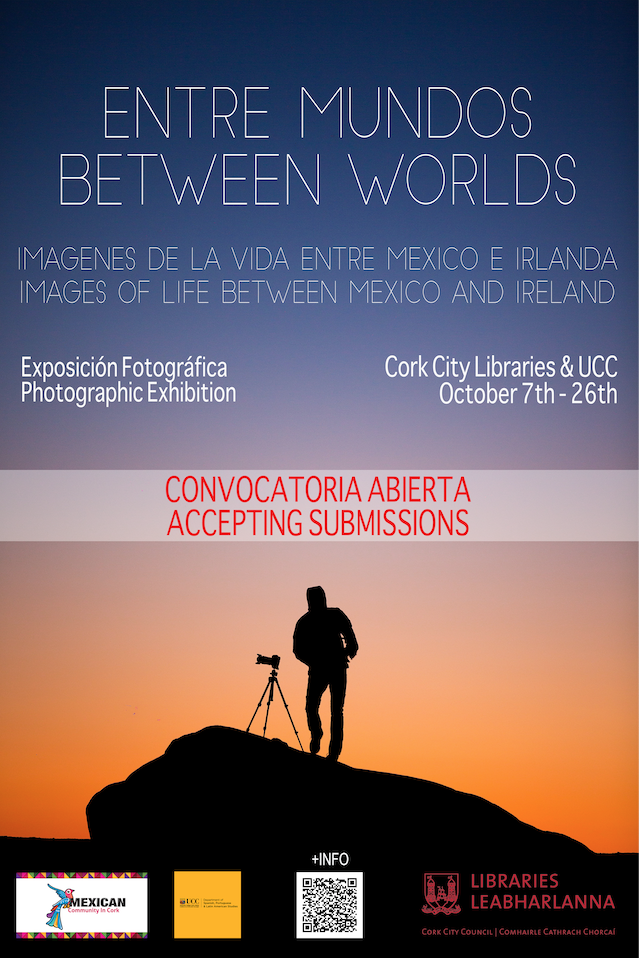 Esta convocatoria está abierta a fotógrafos mexicanos, profesionales o amateurs. Los participantes deberán ser residentes habituales de la Ciudad o del Condado de Cork.
EL Centro de Estudios Mexicanos en asociación con Cork City Library y Mexican Community Cork (MEXICANOS EN CORK) tienen el placer de presentar:
Entre Mundos/Between Worlds: Imágenes de la Vida entre México e Irlanda
Historias de desplazamiento y migración dan forma al mundo del Siglo XXI. El encuentro trasatlántico entre Irlanda y las naciones anglo parlantes del continente Americano han sido ampliamente documentadas tanto en imágenes como en palabras. Además, mientras que ha existido interés tanto cultural como académico en la influencia de comunidades irlandesas en el mundo de habla hispana, la presencia de comunidades hispano parlantes de América en Irlanda ha sido menos explorada y menos visible.
Between Worlds/Entre Mundos: Images of Life between Mexico and Ireland será una exhibición fotográfica de imágenes de miembros de la Comunidad Mexicana en Cork que presentará reflexiones visuales de conceptos de hogar, pertenencia e identidad que emergen de múltiples experiencias vividas entre lenguas y culturas diferentes. Las imágenes reflejarán "cómo se siente vivir y moverse en dos mundos. Al mismo tiempo."
(Ellen Hagan). Se espera que a través de este grupo de reflexiones visuales la exhibición dé una idea de lo que significa ser Mexicano en Cork a un público diverso.
Como parte de University College Cork's Civic and Community Engagement Week, la exhibición tomará lugar en Cork City Library and University College Cork, del 7 al 26 de Octubre de 2019. Un programa de eventos acompañará la exhibición.
BASES DE LA CONVOCATORIA
Esta convocatoria está abierta a fotógrafos mexicanos, profesionales o amateurs. Los participantes deberán ser residentes habituales de la Ciudad o del Condado de Cork.
Las imágenes deberán ser enviadas en formato digital indicando en qué escala consideran sería mejor visualizadas (5 x 7, 10 x 8, A3 etc.). Los fotógrafos seleccionados contarán con un pequeño presupuesto de producción para cubrir gastos de impresión y/o enmarcado de sus trabajos.
Los artistas seleccionados deberán trasladar su trabajo fotográfico ya enmarcado a Cork City Library en la fecha que les sea asignada. Existe la posibilidad de una extensión de la exhibición en UCC y ciertos trabajos deberán estar disponibles para la misma.
Los trabajos seleccionados no podrán ser ofrecidos en venta a través de la exhibición. Información personal de los participantes estará disponible para el público asistente, con datos de contacto si el fotógrafo así lo desea.
La inscripción es gratuita. Los interesados deberán enviar la siguiente información por email a splas@ucc.ie
Nombre del fotógrafo, dirección y número de teléfono celular
Hasta 3 imágenes digitales. Indicar en el nombre de cada archivo: el nombre del artista, el título, la fecha y el formato y las dimensiones preferidas. Por ejemplo:
Un resumen en inglés o español, de extensión no mayor a una hoja A4, indicando la relevancia para la exhibición del trabajo artístico propuesto. Envíos más largos no serán considerados.
i.e. Teresa Margolles, Title, 2019, 29.7cm x 21 cm
Las imágenes recibidas serán sometidas a consideración de un jurado compuesto por las curadoras, Profesora Nuala Finnegan y Cecilia Gámez, y dos miembros adicionales, uno de los cuales será un fotógrafo artístico profesional.
Las decisiones del jurado son inapelables y serán comunicadas via email a todos los aspirantes. Ningún tipo de correspondencia deberá ser enviada a los panelista en relación a la selección de los artistas para la exhibición.
La fecha límite de recepción de solicitudes es el Viernes 9 de agosto, a las 5pm.
For more on this story contact:
splas@ucc.ie