Your Engineering Career
Your Engineering Career
School of Engineering Industry & Career Open Days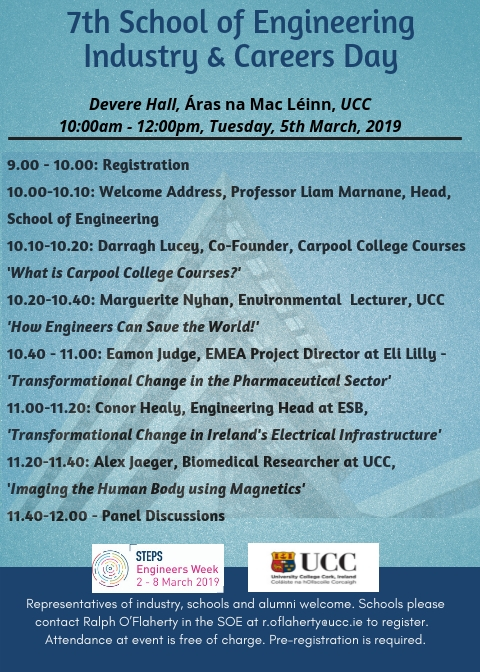 ____________________________________________________________
Please register by emailing r.oflaherty@ucc.ie
____________________________________________________________________
The 5th School of Engineering Industry and Careers Day was held on Thursday 30th March 2017. The speakers were superb, and held us all captivated with their stories of engineering careers and applications. We were delighted to welcome over 350 students from secondary schools across Munster, and are looking forward to next year already!
Prof Liam Marnane, Head, School of Engineering - Introduction and Welcome
Deirdre Clune, MEP spoke about being Lord Mayor of Cork when we first started treating the raw sewage that was previously being pumped – untreated – into the River Lee.
Click here for video
John Mullins, CEO of Amerenco Solar, showed us a video of a solar power plant being constructed in an old quarry in 14 days which was capable of providing power for 15,000 homes.
Click here for video
Aisling Judge, Bioprocess Engineer with Eli Lilly spoke about life as a young engineer and the swings and roundabouts that showed her that the BY Young Scientist competition is really cool, eventually leading her to decide that engineering was what she wanted to do.
Click here for video
Mervyn Greene, CEO of EPIC Ireland, CHQ and Dogpatch Labs, showed us the amazing CHQ building in Dublin's docklands and all of the exciting initiatives that are taking place there, as well as the steel roof that has and will withstand the test of time.
Click here for video
Lizzie Lee, Project Engineer and our first Female Olympian explained how she used engineering to ensure that she calculated exactly how much she would need to moderate her pace and rehydrate to survive the blistering heat and 75% humidity in Rio, and still complete a 26 mile marathon.‌
Click here for video
Careers Day 2016 Lectures
World Leading Edge Technology in Ireland – a 150 years story
Leonard Hobbs, Electronics Engineer & Director Global Public Affairs, Intel Ireland
Click here for video
The Importance of Engineering in the Biotech Industry
Liz Dooley, Chemical Engineer & Director Operations (Biologics), Janssen
Click here for video
Developing a Nuclear Power Station in the World of Today – The Engineering Challenges
Carl Devlin, Civil Engineer & Programme Director, Horizon Nuclear Power Ltd.
Please click here for video
Engineering Innovation in the Energy Sector
Majella Henchion, Mechanical Engineer & Group Resourcing Lead, ESB
Please click here for video