News
News
This Dust of Words: Poetry and/as Translation; Lorna Shaughnessy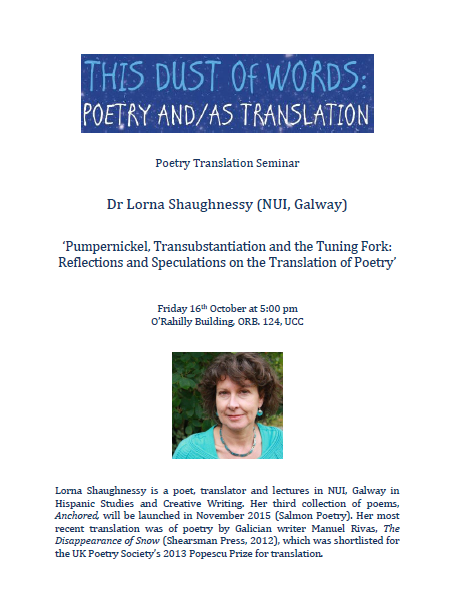 Poetry Translation Seminar by Dr. Lorna Shaughnessy, 5 p.m. Friday 16th October 2015 in ORB 1.24.
'Pumpernickel, Transubstantiation and the Tuning Fork: Reflections and Speculations on the Translation of Poetry'
Lorna Shaughnessy is a poet, translator and lectures in NUI, Galway in Hispanic Studies and Creative Writing. Her third collection of poems, Anchored, will be launched in November 2015 (Salmon Poetry). Her most recent translation was of poetry by Galician writer Manuel Rivas, The Disappearance of Snow (Shearsman Press, 2012), which was shortlisted for the UK Poetry Society's 2013 Popescu Prize for translation.