News
News
Digital Culture and Public Security in Rio de Janeiro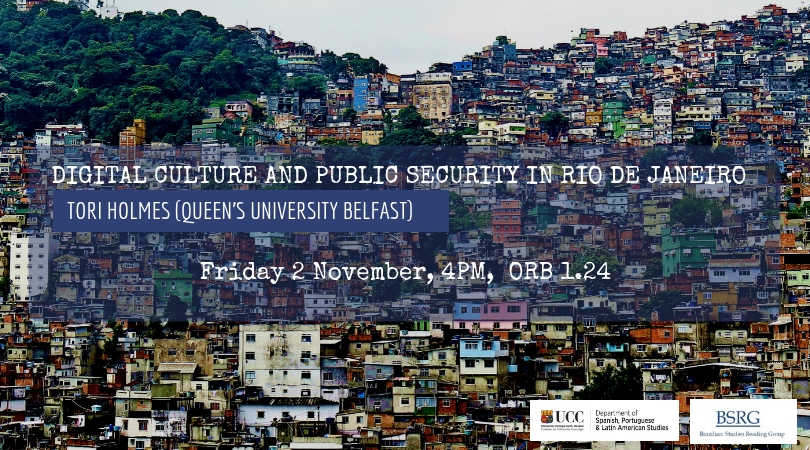 Friday 2nd November at 4 p.m. in 1.24 O'Rahilly Building, UCC
The Department of Spanish, Portuguese and Latin American Studies and the Brazilian Studies Reading Group at University College Cork are delighted to invite you to the Research Seminar:
Digital Culture and Public Security in Rio de Janeiro
by
Tori Holmes (Queen's University Belfast) on Friday 2nd of November at 4 pm in ORB 1.24
ABSTRACT
This presentation will discuss the intersection of digital culture and public security in the Brazilian city of Rio de Janeiro, or how digital technologies and the internet are used by individual residents and civil society groups and organisations to produce and circulate digital content offering a critical perspective on policing and armed violence. It will first chart the evolution and development of this area of activity through different examples or cases from the past ten years, thereby also tracking shifts in both digital culture and public security over this period. It will then turn to a discussion of contemporary 'data activism' initiatives (van der Velden and Milan 2016), set up in recent years to compile, collate, and circulate specifically quantitative data on armed violence and the impact of government public security policies in Rio, including through digital infographics made available via websites, reports, social media profiles, and mobile phone applications. Considering both textual and visual dimensions of such data and its presentation in infographics, the paper will explore how digital technologies are being employed to make visible 'alternative epistemologies' (van der Velden and Milan 2016) of public security in the city.
BIO
Tori Holmes is Lecturer in Brazilian Studies at Queen's University Belfast, Northern Ireland. Her main research interests are in digital culture and the texts and practices of urban representation in Brazil, particularly relating to the favelas of Rio de Janeiro. She has worked on blogging by favela residents and webdocumentaries relating to urban change in Rio during the city's preparations to host the recent World Cup and Olympics. Her current research focuses on data activism relating to public security in Rio. Tori has broader interests in Brazilian documentary and audiovisual production, as well as digital ethnography and ethical and methodological issues in interdisciplinary research. She is one of the founders of REBRAC (European Network of Brazilianists working in Cultural Analysis).