News
News
CASiLaC Multiple Book Launch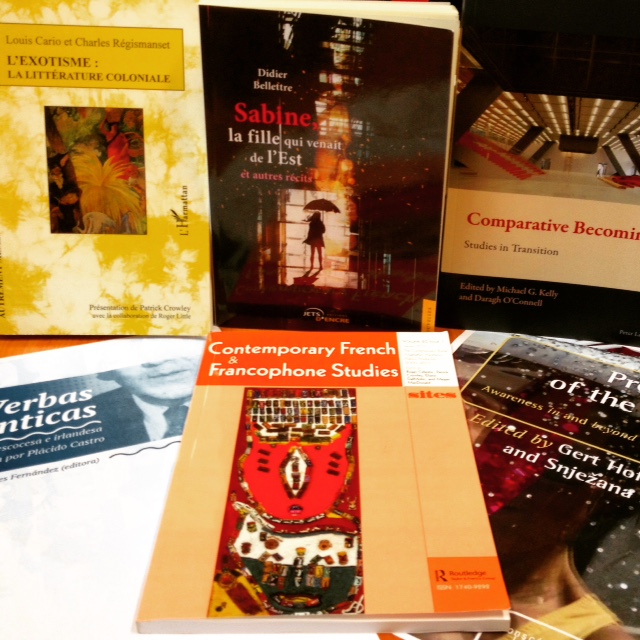 5.15 p.m. Friday 24th February in the Staff Common Room, UCC.
CASiLaC and The School of Languages, Literatures and Cultures warmly invites you to a multiple book launch on Friday 24 February (from 5.15 onwards) in the Common Room with a reception. The launch showcases some of the research activity and creative output of staff in the School over the last academic year. The books to be launched are:
1) Marina Geat, Jan Herman & Paul Pelckmans, Angela Ryan, Charles Mazouer, Cahiers de l'Association internationale des études françaises. Paris, éditions Les Belles Lettres, 2016.
2) Linares, Laura (ed.) Verbas atlánticas. Poesía inglesa, escocesa e irlandesa traducida por Plácido Castro (Cambados: Fundación Plácido Castro. 2016).
3) Louis Cario et Charles Régismanset, L'Exotisme: la littérature colonial, Présentation de Patrick Crowley avec la collaboration de Roger Little. (Paris: L'Harmattan, 2016)
4) Patrick Crowley, Megan MacDonald (eds.), thematic issue of Contemporary French and Francophone Studies titled 'The Contemporary Roman Maghrébin: Aesthetics, Politics, Production 2000-2015' 20: 2 (2016)
5) Gert Hofmann and Snježana Zorić (eds.), Presence of the Body. Awareness in and beyond Experience (Leiden and Boston: Brill | Rodopi 2016)
6) Michael G. Kelly and Daragh O'Connell (eds), Comparative Becomings: Studies in Transition (Oxford: Peter Lang, 2016)
7) Didier Bellettre, Sabine, la fille qui venait de l'Est et autres récits (Paris: Editions Jets d'Encre, 2017).