How to search for relevant journal articles
How to search for relevant journal articles
Hi everyone,
Welcome back to my blog post series, today's topic is
How to search for relevant journal articles.
When searching for a journal article I would recommend using the UCC Library OneSearch. The reason for this is because some databases have a paywall and UCC might have access. If you do have any difficulty finding any article you can always ask the library staff for help (they are great).
Some of the popular databases than are used in Medicine and Health are:
Web of Science
PubMed
Medline
Embase
SportDiscus
Google Scholar
PsycINFO
Amed
Cochrane Library
Scopus
EBSCO (encompasses Medline, Cinahl and SportDiscus)
Cinahl
*Note this is not an exhaustive list of databases, your lecturers may have different preferences.
Finding a journal article using UCC Databases
Click on the Databases button (showed above in red box)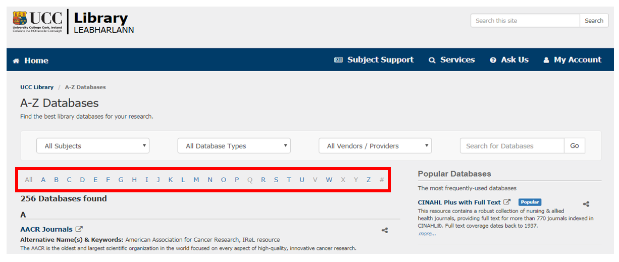 After clicking the Databases button, An A-Z list of over 250 databases will be displayed.
If you are unsure which database to use click the All Subjects drop down menu and select your chosen topic, the suggested databases for that field will appear (see picture below).
Note: The suggested databases are only a guideline, you can use other databases to find relevant journal articles in your field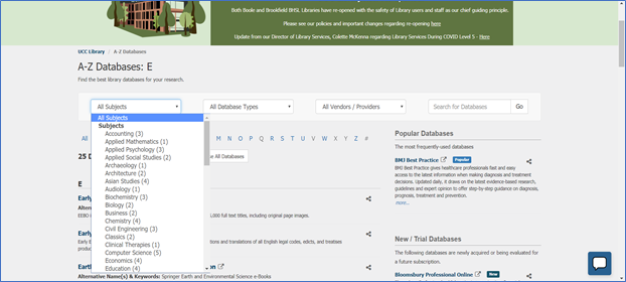 Example of searching for a journal (using Web of Science)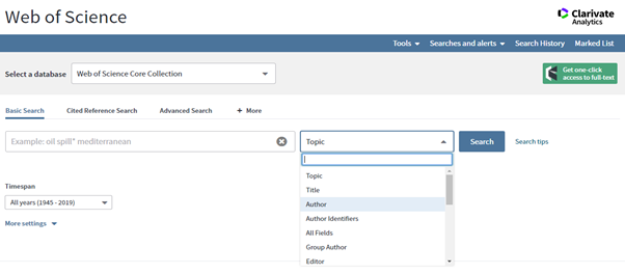 When searching for an article you can search for specific keywords which you would like to see in the title of the journal, the abstract of the journal or as the topic of the journal. You can also set a specific timespan for the publication date (e.g 2015-2020).
After you have searched your keywords the database will display all the articles relevant to your search.
The most relevant articles will be displayed first. However, you can arrange your articles by times cited or by usage count (number of times cited in last week, number of times cited in last month). You can also filter your articles by Highly cited in field, Hot papers in field, or Open Access.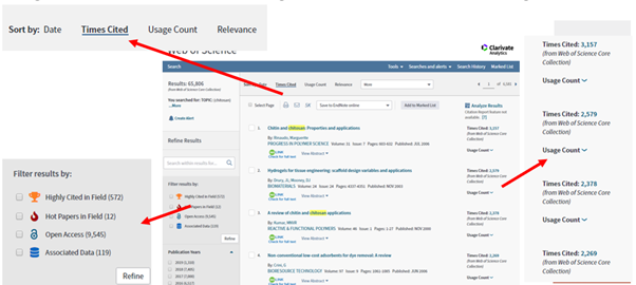 When you click into an article, the link to the full text is in the top left-hand corner (see picture below)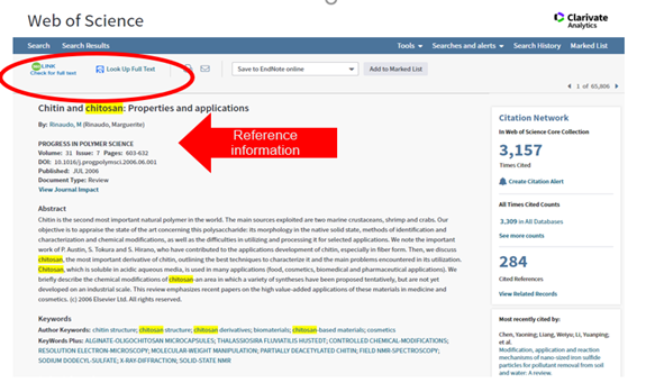 Tips when searching for an article.
Focus your search with more specific keywords
Using the word AND will make sure that the database knows that you want both keywords to be present in the article. Using the word OR will make sure that the database knows that you want either one of the keywords to be present in the article.
Try using alternative keywords that mean the same thing or relate to the same topic.
For example, search Alzheimer's Disease as well as Dementia
Using quotation marks" " transforms multiple words into one whole keyword.
Alzheimer's Disease = 2 words
"Alzheimer's Disease" = 1 keyword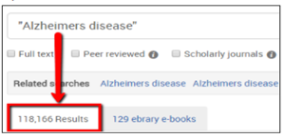 Thanks everyone for reading and I hope this helps.
See you in my next blog,
Leanne