News
News
Dr France Córdova and Mr Eoin O'Driscoll receive Honorary Doctorates in Science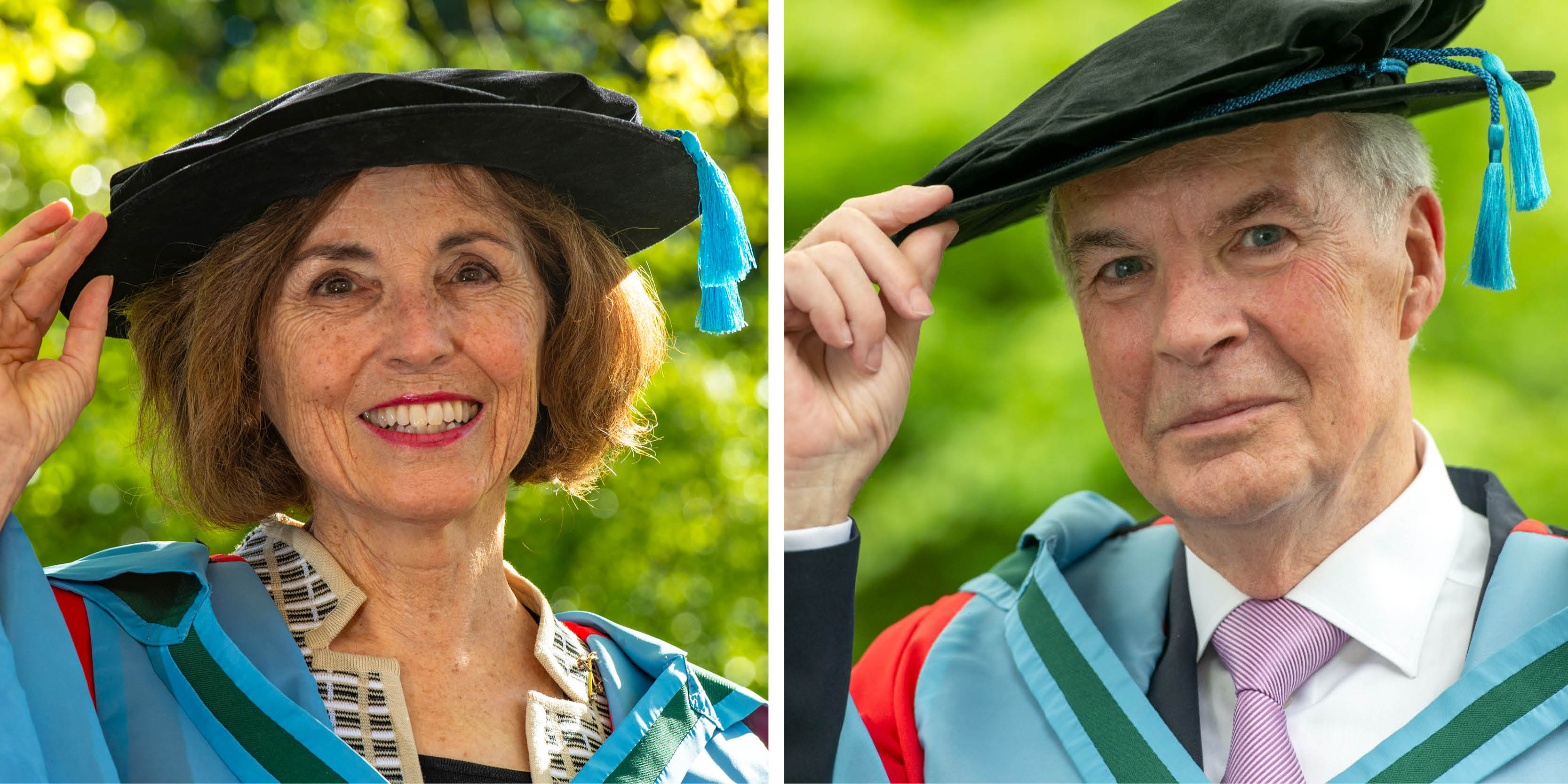 UCC has awarded Honorary Doctorates in Science to Dr France Córdova and Mr Eoin O'Driscoll at the recent Spring conferring ceremonies.
Dr France Córdova is a distinguished scientific, engineering, and education leader with over three decades of experience at universities and national labs. Her contributions to science in the domains of observational and experimental astrophysics, as well as multi-spectral studies on x-ray and gamma-ray sources and space-borne instruments, are outstanding. She has served in both Democratic and Republican presidential administrations as the 14th Director of the National Science Foundation (NSF), as well as serving on business and non-profit boards.
Dr Córdova has also previously served as a NASA Chief Scientist, becoming the youngest person ever and the first woman to be appointed to the role. She subsequently received the agency's highest honour, the Distinguished Service Medal, while working at NASA. She is the current President of the Science Philanthropy Alliance, whose mission is to advance scientific discovery through visionary philanthropy.
Dr Córdova commented:
"I am very proud to be receiving an honorary doctorate from the University that appointed the first woman in Ireland to be a university professor – and the university where Boolean algebra, so important to computer programming, had its roots. For me there is no greater thrill than learning and discovery. I acquire both with my passion for studying the cosmos".
A champion of Irish firms and of Ireland's enterprise and science policy
Eoin O'Driscoll has worked for over 25 years with major ICT multinationals in Ireland and the US where he held senior positions at Nortel, Wang Laboratories, Stratus and Lucent Technologies. His focus over the past decade has been on growing Irish firms and developing Ireland's enterprise and science policy.
A graduate of UCC with a Bachelors and a Masters Degree in Engineering, he is a fellow of Engineers Ireland and a fellow and former president of the Irish Academy of Engineers.
Throughout his career, he made a significant contribution to research, innovation and science policy for Ireland. He was selected to chair the Enterprise Strategy Review Group who developed a strategic plan for enterprise in Ireland and published 'Ahead of the Curve – Ireland's place in the global economy'. He was Chair of Forfas, Ireland's national policy and advisory board for enterprise, trade, science, technology and innovation, and he also participated in the Technology Foresight exercise that led to formation of Science Foundation Ireland where he served on the inaugural Board.
As Chair of the Board of Tyndall National Institute since 2014, Eoin O'Driscoll has made a significant contribution. Tyndall is a unique organisation in the Irish research and innovation ecosystem and is a flagship research Institute at UCC, with an annual research income of over €40m and a community of over 600 staff and postgrad students. Under Mr O'Driscoll's leadership, the Institute has seen significant growth in both reputation and scale which has culminated with Tyndall securing government funding for a major expansion, including a new 17,000m2 research facility planned for UCC's North Mall campus.
Watch 'In Conversation with Dr France Córdova and Mr Eoin O'Driscoll below: