News
News
Pregnancy Loss Research Group launches new website to enhance awareness and action around pregnancy loss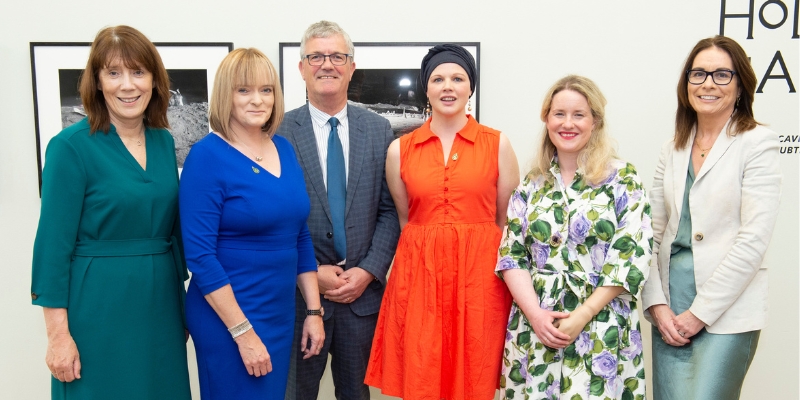 On Wednesday, 3rd May 2023, the Pregnancy Loss Research Group launched a new website, showcasing over ten years of pregnancy loss research in Ireland.
The website – www.ucc.ie/pregnancyloss – aims to support efforts to enhance public and policymaker awareness of pregnancy loss, influence policymaking and healthcare funding, and inform the provision of more effective services and supports within the health care system, community sector, and beyond.
According to Professor Keelin O'Donoghue, Pregnancy Loss Research Group Lead and Consultant Obstetrician at Cork University Maternity Hospital:
"Conducting research which is relevant to people with lived experience, practice and policy is central to what we do within the Pregnancy Loss Research Group. We actively collaborate with key organisations and groups across Ireland and beyond to do so. We are committed to sharing information about our research, and pregnancy loss more broadly, to break the silence and stigma around pregnancy loss and maximise the impact of our work. The website will enable us to do this."
The website was developed through the Irish Research Council-funded PLATFORM project, in collaboration with the Irish Hospice Foundation, which aims to enhance the translation of pregnancy loss research into policy and practice. Speaking at the event, Paula O'Reilly, CEO of the Irish Hospice Foundation (IHF), acknowledged the importance of good bereavement care and the long-standing collaborative activities between the IHF and the Pregnancy Loss Research Group.
The PLATFORM project brought researchers, key civil society partners and other knowledge users – including people with lived experience of pregnancy loss – together to look at why it can be difficult to get pregnancy loss research into policy and practice and what might work to address this. Two key themes predominated: the need to end the silence, stigma and inequality around pregnancy loss, and to use a range of tailored, accessible, approaches (such as materials, workshops/webinars, media, knowledge brokers, and champions or opinion leaders) to engage a large, diverse range of knowledge users. Learnings were used to develop activities and outputs, including the Group's new website. During the development of the website a knowledge user stated:
"It's an emotive topic. It makes people uncomfortable. It's still a hidden grief and quiet taboo. As such I think it is harder to put the research into practice. It's not always seen as a priority. Pregnancy loss can very much be seen as a "normal " part of reproduction. That the men and women that suffer the loss of a baby brush themselves off and get on with things. That it is "just one of those things". It's not always recognized the huge impact pregnancy loss has. The research may not be seen as important and may be pushed to the back of the line."
At the launch, the Pregnancy Loss Research Group also marked its ten-year anniversary, having been formally established at Cork University Maternity Hospital in 2012. Since then the Group has made extensive and important contributions and impacts through its: publications – including journal articles, books and book chapters, national clinical guidelines and reports, and policy briefs; PhD, masters, and undergraduate students; presentations and keynotes at national and international conferences; hosting of conferences and training days; development of education and training programmes; and leading the development of national clinical guidelines and the implementation of national standards for bereavement care following pregnancy loss and perinatal death. Examples of its activities and impacts were highlighted and discussed during a panel discussion on 'breaking the stigma and silence around pregnancy loss' with members of the PLRG, chaired by Maria Moynihan, journalist.
Speaking at the launch, Professor John O'Halloran, President of UCC, said "I congratulate Professor O'Donoghue and all the Pregnancy Loss Research Group on the launch of this new website which showcases the breadth of their research activities and impacts on policy and practice across the field of pregnancy loss. A leader in national research in this area, we are proud to have such a Group within the UCC community, which we also recognised as Best Research Team of the Year in 2021."
Further information for editors
About the Pregnancy Loss Research Group
The Pregnancy Loss Research Group (PLRG) leads national research to better understand pregnancy loss experiences and impacts, and the development of resources and evidence-based advice and interventions, to improve health care (quality) and health and social outcomes for women, babies and their families. This includes all types of pregnancy and infant loss, including first trimester miscarriage, second trimester miscarriage, ectopic pregnancy, molar pregnancy, multiple pregnancy complications, stillbirth, termination of pregnancy, neonatal death and pregnancy after loss.
About the PLATFORM Project
The PLATFORM project was led by Professor Keelin O'Donoghue and Marita Hennessy PhD, in partnership with the Irish Hospice Foundation, represented by Dr Amanda Roberts (Bereavement Development Officer) and Avril Easton (Advocacy Manager). The team was supported by Maurice Ryder (Web Content Strategist and Head of Web Content Team, UCC), Cal Doyle (Web Content Editor, UCC), Noelette Hurley (Digital Advisory Centre, UCC) and Granite Digital.
Resources for individuals, families, health professionals, and anyone who needs information and support about pregnancy and/or infant loss
Pregnancy and Infant Loss Website: www.pregnancyandinfantloss.ie
Cork Miscarriage Website: www.CorkMiscarriage.com. This is a valuable resource for parents who experience pregnancy loss or perinatal death. The website provides accurate and accessible information on a sensitive and often stigmatised subject, shares the latest research into the causes of baby loss, promotes emotional well-being, and offers details on how to access the appropriate support services.
For more information contact: Professor Keelin O'Donoghue (k.odonoghue@ucc.ie) or Marita Hennessy PhD (maritahennessy@ucc.ie)