News
News
Geological Survey Ireland, SFI and the Marine Institute announce €2m for marine geoscience research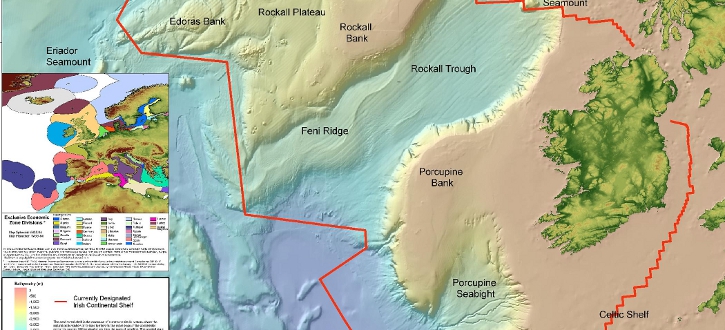 Last week saw the launch of new research projects funded under Science Foundation Ireland's Investigators Programme awards. This year, the awards include two projects co-funded by SFI, Geological Survey Ireland (GSI) and the Marine Institute (MI) including one led by Prof. Andy Wheeler.
The two projects build on existing Irish Government investment in INFOMAR seabed mapping and SFI co-funded marine equipment. Prof. Andy Wheeler (School of BEES, University College Cork) will use the latest robotic technology of the MI's Holland I to study Ireland's coldwater corals including how they may be affected by climate change. Prof. Sergei Lebedev (Dublin Institute for Advanced Studies) will use Ocean Bottom Seismometers (OBS), sensors placed at water depths of up to several kilometres, to look deep into our offshore geology and also monitor our ocean processes including potential tsunami generating landslides.
"Ireland's offshore territory is ten times the size of our land and we continue to learn more about its geology and processes and how this impacts our lives. Through programmes like the INFOMAR seabed mapping project we are constantly improving the maps and images, however, these new research projects will help us further understand the continental crust and seafloor and how they form and influence our natural resources, habitats and ocean dynamics". Koen Verbruggen, Director, Geological Survey Ireland.
Prof Andy Wheeler @uccBEES to research cold water corals with @scienceirel award #believeinscience #uccresearch https://t.co/EfzETcS6WO

— UCC Research (@UCCResearch) September 27, 2017
"It is reassuring to see some of our leading scientific researchers developing new knowledge and supporting our marine based economies through projects such as these. It is essential that we carefully manage all our natural resources, including those in the marine area. However to do this we need to better understand the natural processes affecting such environments. This will allow us to plan for our future, both in terms of sustainability and mitigating potential hazards". Minister Denis Naughton.
Both projects will use data collected by the Geological Survey Ireland and Marine Institute as part of the INFOMAR marine mapping programme which is funded by the Department of Communications, Climate Action and Environment. This data and related products are freely available online: http://www.infomar.ie/data/RealMaps.php
Details of Prof. Wheeler's project:
Mapping, Modelling and Monitoring Key Processes and Controls on Cold-water Coral Habitats in Submarine Canyons
The Irish Porcupine Bank Canyon supports deep-water coral reefs that will be studied using advanced robotic technology and novel 3D visualisation tools. The project will explore and monitor the canyon and define seabed processes that dictate where corals occur and their sensitivity to climate change and fisheries/oil industry impacts. The aim is to make recommendations for sustainable responsible fisheries and hydrocarbon activity and for effective management during climate change.
For further information on the SFI Investigators Programme see http://www.sfi.ie/funding/funding-calls/sfi-investigators-programme/