News
News
Future-proofing European cities: UNIC alliance launches international master's programme, 'Redesigning the Post-Industrial City'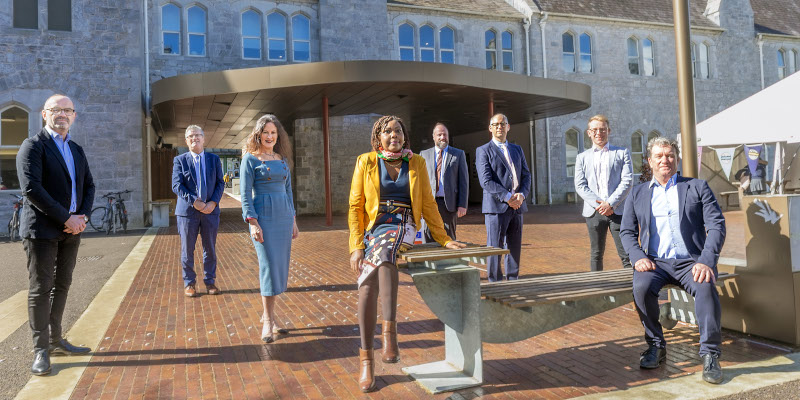 'Redesigning the Post-Industrial City' (RePIC) is a joint master's programme for those interested in reconceptualising the civic, cultural, and social fabric of post-industrial cities.
The programme will deliver cross-disciplinary research and teaching with insights from leading European academics and cultural partners as part of the UNIC European University Alliance.
UCC will collaborate with Cork City Council and local civic, arts, and cultural organisations to bring contemporary urban challenges and solutions to life.
RePIC students will live and study in up to three universities over two years.
University College Cork (UCC) is part of UNIC, an innovative European-wide university alliance connecting 'cities in post-industrial transition'. The ten universities in the UNIC alliance share an identity rooted in their post-industrial urban history and traditions, and work in partnership with city organisations to integrate urban issues into teaching and research.
The UNIC alliance is launching a new international master's programme, delivered with seven other partner universities. The interdisciplinary MSc in 'Redesigning the Post-Industrial City' (RePIC) will offer international training and deep insights on the challenges around the transformation of post-industrial cities - where the ambition is to build a vibrant knowledge and innovation community committed to the rethinking of more sustainable urban futures.
RePIC is a full-time, immersive European postgraduate experience; students will live and study in up to three cities during the two-year programme. It is a unique opportunity to gain a joint master's degree delivered by Ruhr- Universität Bochum (Germany), University College Cork (Ireland), Universidad de Deusto (Spain), Erasmus Universiteit Rotterdam (the Netherlands), Koç University (Turkey), Université de Liège (Belgium), University of Oulu (Finland), and University of Zagreb (Croatia). Students will gain skills in urban design, urban planning and will delve deeply into the revitalisation of post-industrial cities. Track options will include 'Urban Transformation and Resilience', 'Diversity and Social Justice', 'Urban Analysis: Smart, Sustainable and Resilient Cities', and 'Governance of Post-Industrial Cities'.
RePIC is aimed both at graduates and working professionals looking for new opportunities to rethink and explore the design of sustainable urban futures. Applications are invited from those with a background in Architecture, Urban Design, Urban Planning, Geography, Civil Engineering, Environmental Engineering, Geoinformatics, Sociology, Public Administration, Culture, Media, Visual Art, and other related fields of study. RePIC's vision is to develop a new talent stream of urban citizens with the capacity to contribute to future-oriented, avant-garde thinking on the revitalisation of the post-industrial city.
"The launch of RePIC with UNIC partners is a significant moment for UCC. Students will be offered a one-of-a-kind international postgraduate experience and will be prepared for taking a key role in shaping the future of Cork and other post-industrial cities worldwide," said Professor John O'Halloran, UCC President.
The RePIC degree will equip graduates for career opportunities working on urban development in a range of contexts: from governmental organisations at local, national and European levels (public urban planning), to non-profit organisations, to private sector companies operating in the areas of consulting, design, architecture, planning, or construction.
The programme comes at an opportune time for Cork, as the city's economic profile is growing. The city was recently named by the Financial Times' fDI Intelligence as the top small European city for economic potential in 2023; it's the second year in a row that Cork was awarded this ranking. RePIC graduates will help Cork to fulfil its potential as a great place to work, study, live and thrive. RePIC's emphasis on regeneration and sustainability will also contribute to Cork's position as one of the 100 'EU Mission Cities' aiming to be climate-neutral, smart cities by 2030.
The programme will include real-world application of knowledge to benefit partner cities and their citizens. Students will have the opportunity to collaborate with city authorities and community groups through 'CityLabs', responding to societal challenges through activities including workshops, discussions, interviews, and team-based problem-solving. In Cork, the programme's CityLabs activity will be delivered in partnership with Cork City Council.
'This is the future for urban planning and development. Embedding trans-disciplinary skills and collaborative real-world practice is critical in responding to the challenges our cities face," said Mr Lorcan Griffin, Senior Executive Planner, Strategic Planning & Economic Development Section, Cork City Council.
All course information and online application details are available at: https://unic.eu/en/repic.
Register for an upcoming online information session to take place on March 24th at 4pm: https://kocun.zoom.us/webinar/register/2016783718120/WN_wv0_rETZRpWfz6gcPxvhBA?timezone_id=Europe%2FDublin