DPR News
DPR News
UCC Career Services move to new Hub Building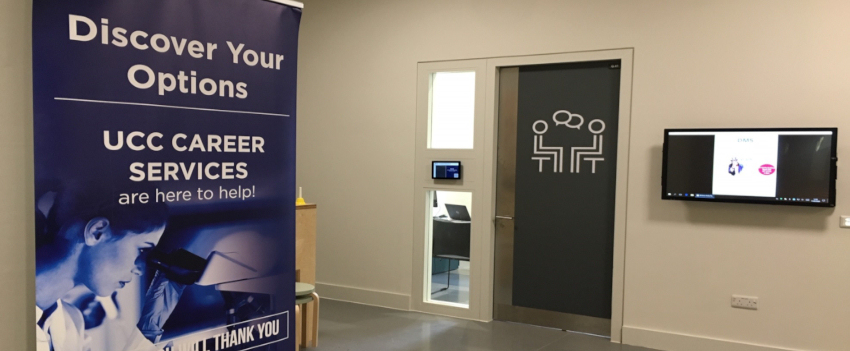 After twenty years located at the houses at Brighton Villas on the Western Road, on the 16th December 2019 UCC Career Services completed a permanent transition to their new central campus location in The Hub Building.
While it was difficult to say goodbye, the move to The Hub symbolised more than a location change, but a shift in how we work and deliver our services. New resources, such as consultation rooms, access to new presentation and workshop space and the ground floor Atrium, present opportunities for us to maximise the delivery of our services to both students and our enterprise partners.
Before our move to The Hub Building, our activities and events were spread across campus; employers who came to interview our placement students were assigned space in non-central locations. Our new consultation rooms provide us with a professional space where our enterprise partners can interview our students and meet with our team in a comfortable and professional environment. Our use of these meeting spaces has resulted in more opportunities for our team to meet with enterprise partners, right outside of the office. On the 15th January, we were delighted to welcome some of our first employers to interview placement students on our second floor space in the new Hub building. Tine Ltd. is Norway's largest producer, distributor and exporter of dairy products and their goal is to provide consumers with food that provides a healthier and positive food experience. Placement students from our BSc Food Science and BSc Nutritional Science interviewed with Tine and a successful candidate will undertake their placement with the company at the Co. Cork headquarters this summer.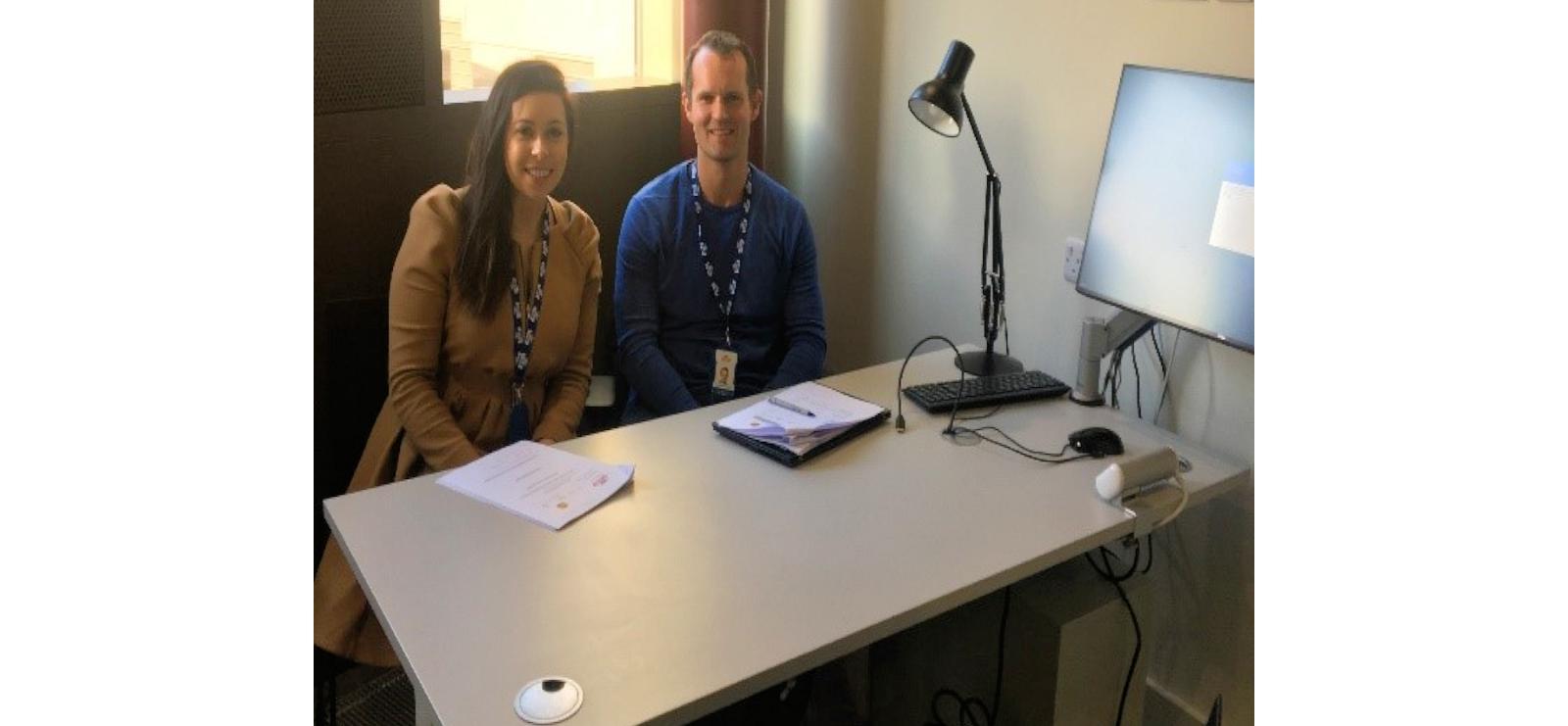 Aoife Kearney and Sigurd Rognmo Solvoll of Tine Ltd.
In addition to providing a modern and professional space for our enterprise partners to interview our students, The Hub Building has presented us with opportunities to expand our employer engagement offerings on campus. The ground floor Atrium is a dynamic space, and since our move we have hosted a series of creative engagement events. In January alone an EY Breakfast, KPMG packed lunch and ALG Winter Warmer all took place in the Atrium, and presented an alternative to company presentations and informative sessions. For us, the Atrium represents a hub of opportunity and a place to network informally with companies in a central location and in a relaxed atmosphere. Our move to this new space is timely, as employer engagement activity shifts from presentation sessions to enterprise seeking quality interactions with our students.
At the ALG Winter Warmer, the Active Learning Space was used for one on one interactions with company representatives. Just outside in the Atrium, students and representatives mingled over hot chocolate and treats and discussed the ALG Summer Internship Programme. We received exceptional feedback from students who enjoyed the new venue and appreciated the opportunity to network with the company in an informal yet professional and modern environment.
ALG Winter Warmer hot chocolate and network event in the Active Learning Space and Atrium
Once our events team learned more about the space and its most effective use, we took another leap and scheduled a Jobs Roadshow in the Atrium, forming part of UCC Humanities and Social Science Careers Day on the 5th February 2020. It was the first time such an employer engagement event had been coordinated as part of the day and it was fitting that it should take place in UCC's newest building. Amidst the buzzing atmosphere of the Atrium were stands by EY, Ibec, Apple, Dell, Bank of Ireland and VMWare, some of the strongest recruiters of our Humanities and Social Science cohort. We are excited to host more events in The Hub Building and on the 24th February our annual Teaching Fair will take place in the Dr Dora Allman Room. We hope that in time our Services and events become further embedded in the fabric of the building.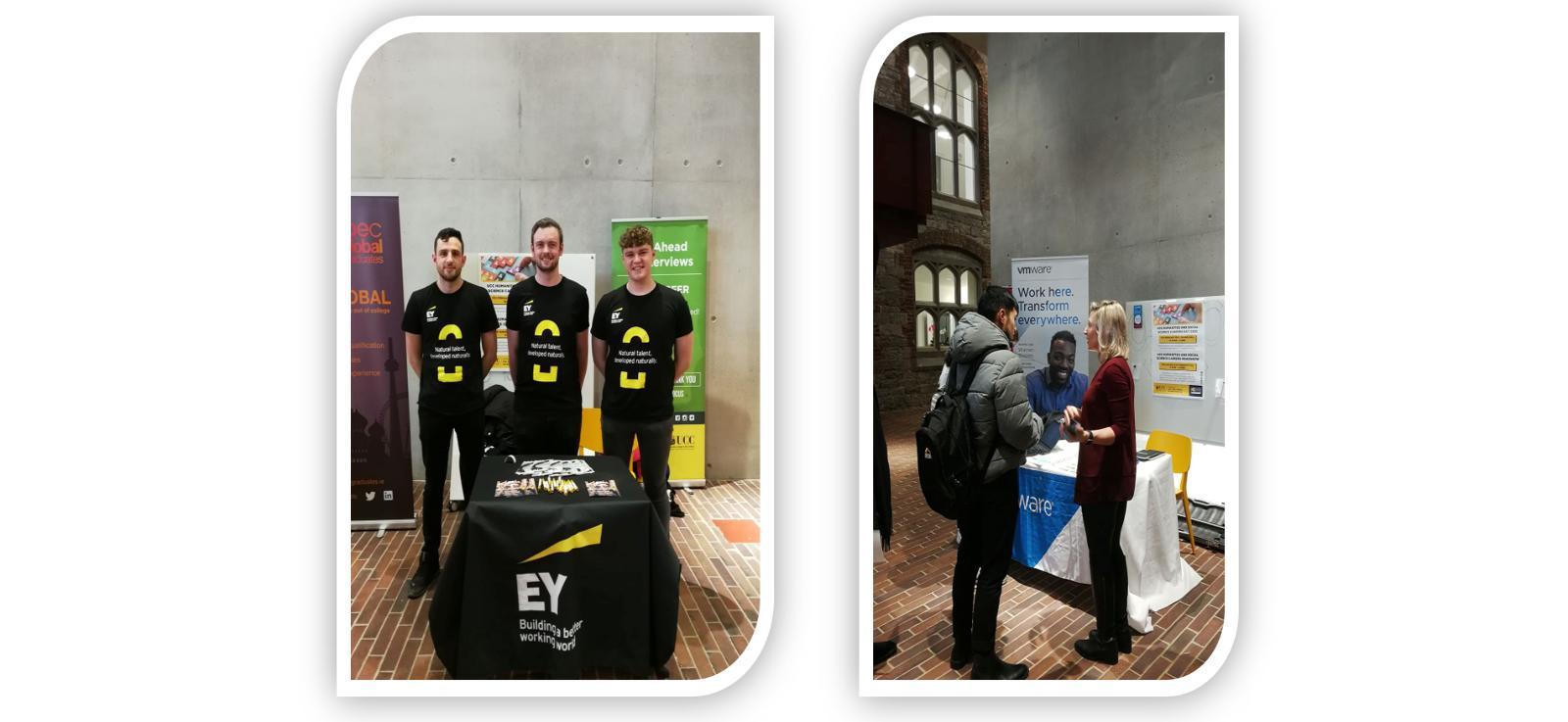 Representatives from EY and VMWare attended the Humanities and Social Science Careers Day Roadshow in the Atrium on the 5th February 2020
The Hub Building is a space for us to proudly present our work, where we can connect with students in our new spaces with new technology, provide an experience for enterprise partners and work collaboratively with our team. Having once been divided between two buildings, our team is now enjoying a synergetic space, and are making the most of it by sharing our knowledge and skills. We are now well into our settling-in period and are excited at the compelling opportunities The Hub Building holds for us in the future- watch this space!

Sharing our knowledge: our team now have a space to work more collaboratively, right outside the office.
For more on this story contact:
Adel Coleman, UCC Career Services, 021 490 4820 or adel.coleman@ucc.ie