DPR News
DPR News
An Taoiseach Micheál Martin TD officially opens The Hub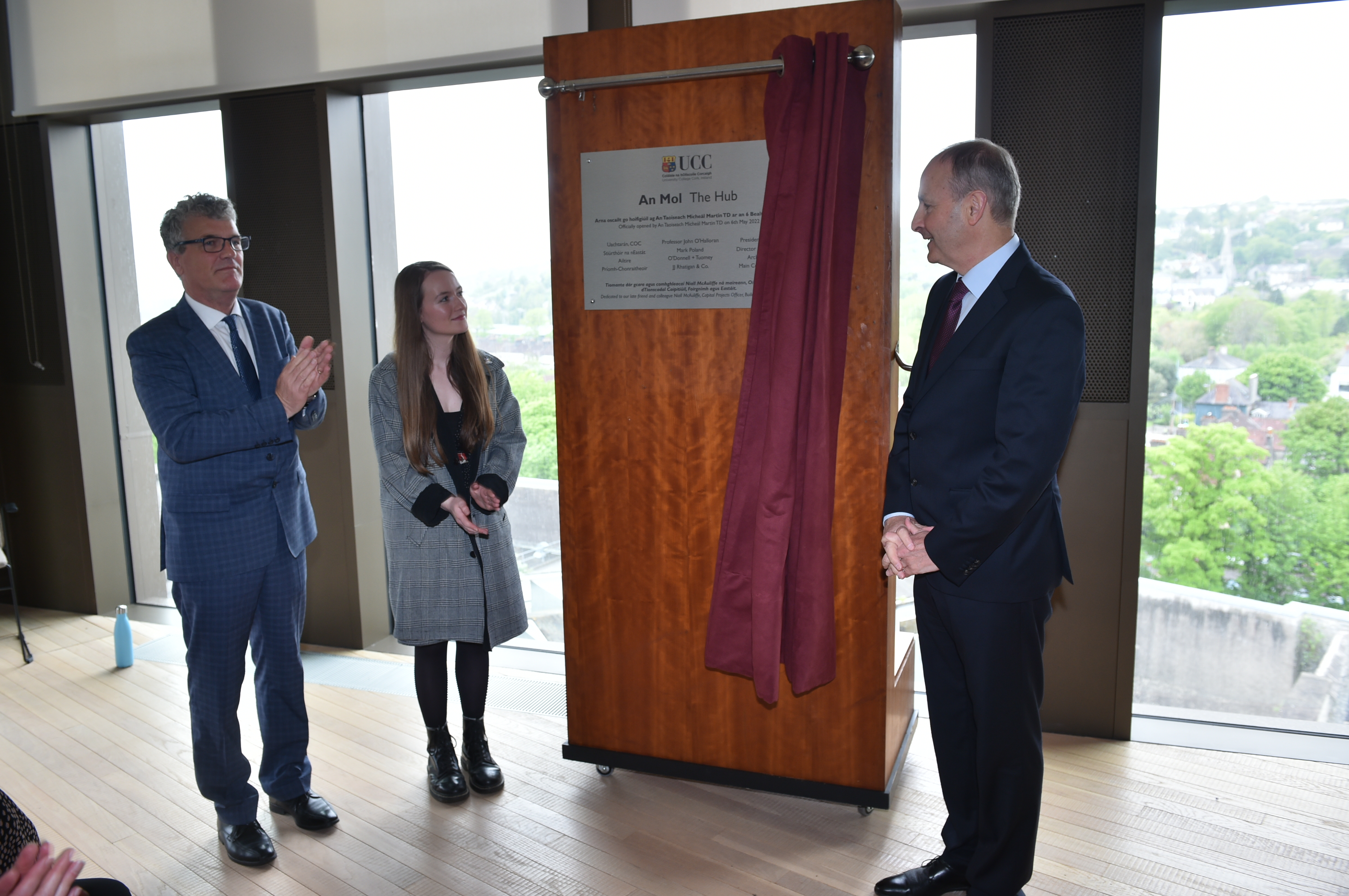 An Taoiseach Micheál Martin TD, who graduated from UCC in 1981, officially opened UCC's new student service centre The Hub this morning at 10am.
An Taoiseach toured The Hub's facilities, where he:
Met students and staff to hear about the role of clubs and societies in UCC.
Met the staff at Roots cafe, a coffee shop that focuses on training and employment for people with an intellectual disability who are supported by Cope Foundation.
Watched a performance from members of Misneach, a hip hop performance group of girls from the Kabin Studio youth centre in Hollyhill, Cork. UCC and the community group work together on a research and community partnership, through "UBUNTU: Local is Global", a celebration of hip hop arts and culture spearheaded by UCC Professor Griff Rollefson and his EU-funded CIPHER project, which tracks the impact of hip hop music around the world.
Discussed the University's response to Covid-19 with Dr Michael Byrne, Head of Student Health at UCC and Dr John MacSharry, UCC's Schools of Microbiology and Medicine. Dr MacSharry is a Principal Investigator on UniCov, a multi-university project that monitors Covid-19 levels in participating university students and staff. UCC had the largest numbers of volunteers of any Irish university for UniCov, with over 2,000 UCC students and staff taking part.
Viewed UCC's state of art radio station and student media centre.
Visited the Calm Zone - formerly the University's Old Bar, which is now a space designed to be a place of respite and calm for students, and in particular students on the autism spectrum.
Located in the heart of UCC's main campus, the historic 170-year-old Windle Medical building was previously used for training generations of doctors. Now it has been conserved and transformed into The Hub - a single point of contact for academic and student services, student support services, student clubs and societies, while also providing new flexible study, learning, teaching and event spaces.
O'Donnell+Tuomey were appointed as architects for The Hub and the building is one of the most energy efficient on campus, and is fully accessible.
UCC President Professor John O'Halloran welcomed the Taoiseach's visit to his alma mater. "Our Hub is a beating heart of our campus. We are really happy to be finally officially opening this magnificent facility, and are delighted that a Taoiseach who is a proud UCC graduate cut the ribbon on a development that enhances our student experience by bringing services together under one roof," he said.